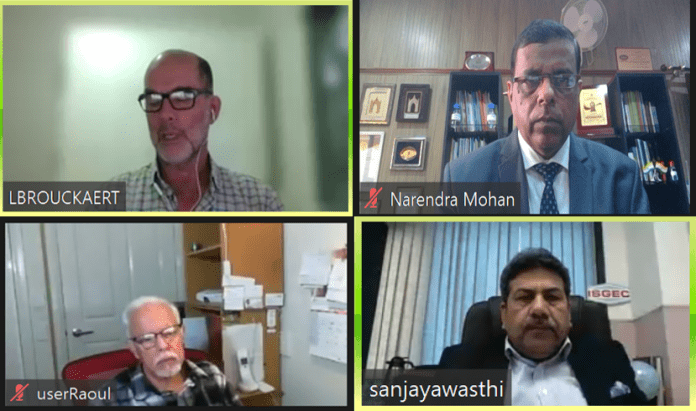 A webinar on the topic "Diffusers in Cane Sugar Industry" was organized today by National Sugar Institute, Kanpur in which 200 delegates from India, Kenya, Indonesia and Nigeria participated.
In his presentation, Shri Narendra Mohan, Director, National Sugar Institute, Kanpur gave a background of the Diffusion Technology in cane sugar industry through application of Diffusers. He highlighted the advantages of Diffusers over the conventional milling technology which has been adopted by 98% of the Indian Sugar Factories.

Previously we were dependent upon imported diffusers, but now these have been developed indigenously suiting to our own conditions and thus we are "Atmanirbhar", informed Director, National Sugar Institute.
The Diffusers can result in higher sugar recovery, lower power requirement, lower capital and other costs as compared to milling technology. They are suited for outdoor installation and thus the civil cost is considerably reduced. Because of various advantages of it, a 5000 TCD sugar factory can generate additional income to the extent of 750 lakhs per annum, said Director, NSI.
Dr. Georges Edouard Raoul Lionnet, Consultant, Mitr Phol, Thailand, elaborated the differences in Diffusers used in factories producing sugar from sugarcane and sugar-beet. He detailed various prerequisites for successful Diffuser operation including importance of automation. Mr. Luke Brouckaert of M/s Wilmar International, Australia shared his experiences about working of Diffusers in Southern Africa, Reunion Island, Australia and Guyana. It is an established technique having multiple advantages over conventional Milling technique resulting in higher juice extraction efficiency and thus higher sugar production from the same quantity of sugarcane, said, Mr. Luke.
Shri Sanjay Awasthi, Business Head, ISGEC, Noida made a presentation about working of Diffusers developed by ISGEC with an aim to utilize 50% of cane juice for sugar and 50% for ethanol production.
Shri J.P. Shukla, Chief Sugar Technologist, SS Engineers, Pune presented design features of Diffusers developed by them.
On the basis of working of seven diffusers, we can expect a rise in sugar recovery by 5% with better sugar quality at lower power consumption. Thus the factories can also earn additional revenue by exporting the surplus power, he said.