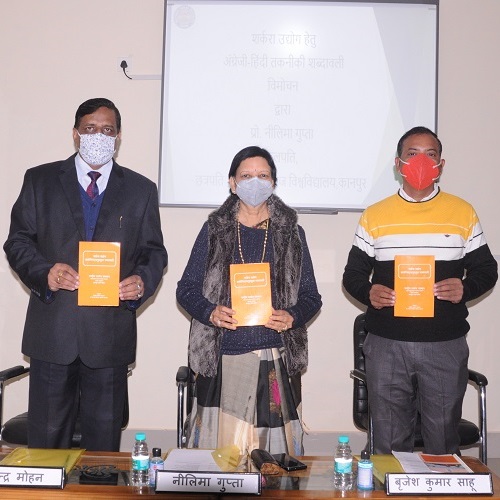 A dictionary comprising technical words and terminology pertaining to sugar industry has been prepared by National Sugar Institute, Kanpur after arduous efforts lasting two years. The "SHABDKOSH FOR SUGAR INDUSTRY" was released today by Prof. (Ms.) Nilima Gupta, Vice-Chancellor, CSJM University, Kanpur. Releasing the dictionary, Prof. (Ms.) Nilima Gupta lauded the efforts of National Sugar Institute for the innovative approach and coming out with the dictionary which would help the students and all stakeholders of the sugar industry.
Speaking on the occasion, Prof. Narendra Mohan, Director, National Sugar Institute, Kanpur said, "Need for such exclusive dictionary for sugar industry was long felt as large number of sugar factories are situated in Hindi speaking areas and in the institute 15% of the seats have been reserved for the students from rural areas. The dictionary which contains Hindi meaning of the various technical terms with particular reference to sugar industry would help in better understanding of the subject and thus it is expected that not only the students and technical personnel but all the stakeholders of the sugar industry shall be benefitted. It was a cohesive effort of all the institute employees and the Rajbhasha Vibhag of the institute needs to complimented, he added.

In his concluding remarks, Mr. Brajesh Kumar, Senior Administrative Officer, stressed on working continuously for addition of more such technical terms which are at present +2000 only. We shall circulate the dictionary to apex organizations of sugar industry to seek their views and request for favouring us with more such terminology which has not been covered. The programmes were conducted by Mr. Pankaj Thakur of Rajbhasha Vibhag.