Six weeks "Refresher Course" for the technical staff of M/s Sunti Golden Sugar Estate, Nigeria started today. More than 30 engineers, technologists and other technical staff are participating in the course which is being conducted online.
Nigeria is a sugar deficient country which meets its over 95 percent domestic requirement through imports. The country imports about 1.7 million metric tonnes of sugar mainly from Brazil. The Nigerian Government in September, 2012, adopted the Nigeria Sugar Master Plan (NSMP), developed by the National Sugar Development Council (NSDC), as a road-map policy document to achieve self-sufficiency in local sugar production within the shortest possible time. To achieve the goals, Nigeria is making all out efforts to enhance sugarcane and sugar production capacities. Thus, the country needs qualified manpower to operate the sugar plants with efficiency.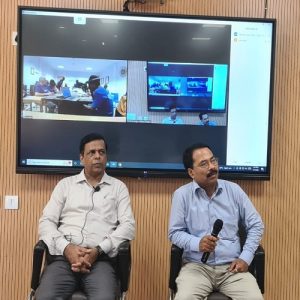 For the purpose of making available the qualified manpower, we have already provided assistance to Nigerian government in setting up a sugar institute including training of faculty. However, there is long way to go and thus the sugar factories in Nigeria are seeking support of National Sugar Institute to train their technical staff so as to run the sugar plants with efficiency, said Shri Narendra Mohan, Director. We are going to provide them knowledge about "Best Available Technologies" and "Standard Operating Procedures" so as to produce good quality sugar at a lower cost of production. The institute faculty shall also enrich their knowledge about safe processing and packaging of sugar, he said.
The participants shall also be imparted knowledge about latest machinery & equipment used during processing and measures for reducing steam, power and chemical consumption. We shall also give them idea about recent trends in utilization of by-products for producing value added products, said Shri D. Swain, Prof. Sugar Engineering and Course Coordinator.