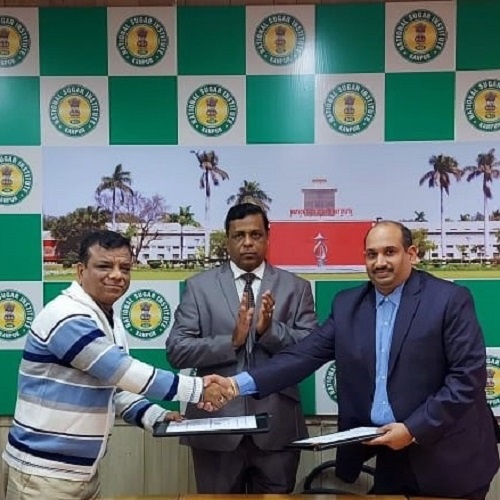 National Sugar Institute, Kanpur to carry out collaborative research for development and trials of enzymes with M/s Catalyst Biotechnologies Pvt. Ltd., Noida for preservation of intermediate molasses and sugar syrup. Agreement to this effect was signed today between the two organizations at the institute.
The sugar industry keeping in view the surplus sugar production is diverting syrup and other intermediate molasses for production of ethanol which is very much required for blending with petrol. Since, sugar factories operate for few months only, to operate the ethanol units round the year with such raw material, the same is required to be stored. However, upon storage the intermediate molasses, B heavy molasses and sugar syrup deteriorate and thus the yield of ethanol per ton of raw material reduces which is more significant in sugar syrup. Thus, there is need for developing technologies for minimizing deterioration during the storage and for that purpose apart from taking other measures, one possible way is the use of specially developed enzymes to inhibit microbial contamination and thus check deterioration, said Shri Narendra Mohan, Director, National Sugar Institute, Kanpur.
Dr K V T S Pavan Kumar, Head (R&D), M/s Catalyst Bio-technologies Pvt. Ltd. expressed his confidence about development of such innovative products in association with National Sugar Institute, Kanpur. Preservation of sugar syrup in sugar factories will prove to be a game changer and would be of great help in achieving the ethanol blending targets of 20% in petrol by 2025, he said.