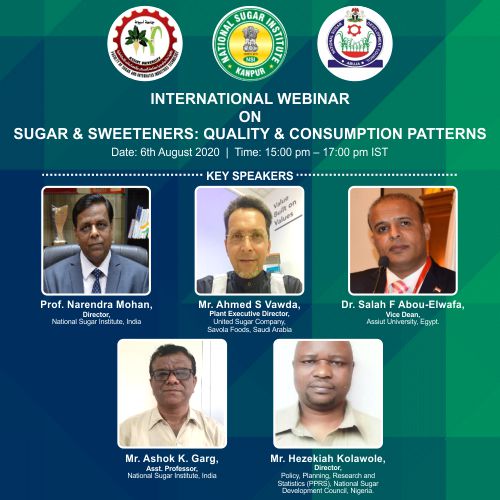 Kanpur: National Sugar Institute, India in association with Assiut University, Egypt and National Sugar Development Council, Nigeria is organizing an International Webinar on the topic "Sugar & Sweeteners – Quality and Consumption Patterns" on 6th August 2020.
Diabetes and epidemic obesity continue to influence the dietary lifestyle of consumers across the globe as they witness transitions in the quality of food being served to them. Apart from sugar, sugar substitute such as non-nutritional artificial sweeteners, low calories or zero calories natural sweeteners that include sugar alcohols and plant-derived non-saccharide sweeteners find their application in foods and beverage industry. There is a need to further explore the available technologies for the development of alternative sweeteners, which would function in line with the safety and health of consumers and also for food and beverage industries to get better market and price.

The webinar will give an insight into all such possibilities that would pave way for future innovations in the field of sweeteners and also aiming towards value addition along with giving due diligence to sugar production and the consumption scenario in light of Covid-19 implications. The international experts will also discuss on use of other feedstock viz. sugar beet for the production of such sweeteners.
The Key Speakers of the Webinar are: 1. Prof. Narendra Mohan, Director, National Sugar Institute, India 2. Mr. Ahmed S Vawda, Plant Executive Director, United Sugar Company, Savola Foods, Saudi Arabia 3. Dr. Salah F Abou-Elwafa, Vice Dean, Assiut University, Egypt. 4. Mr. Ashok K. Garg, Asst. Professor, National Sugar Institute, India 5. Mr. Hezekiah Kolawole, Director, Policy, Planning, Research and Statistics (PPRS), National Sugar Development Council, Nigeria.
Date: 6th August 2020
Registration Link:
https://forms.gle/nPRd9ALMNCDu7qrv9
Time: 15.00pm – 17:00pm
Registration closes on 4th August 2020 at 12 pm IST
Limited registration Allowed
For any assistance, you can write: webinar29@gmail.com and for more details, visit www.nsi.gov.in
To Listen to this News click on the play button.