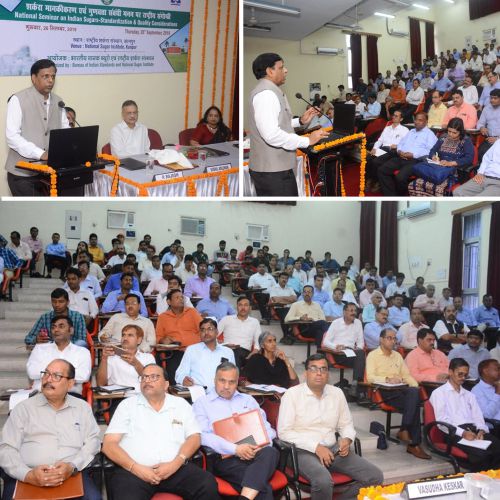 One day national seminar on "Indian Sugars-Standardization and Quality Consideration" was held at NSI, Kanpur. The seminar was organized jointly by NSI-BIS and Marc Labs, Pune. The seminar was inaugurated by Dr. Sushil Solomon, Vice Chancellor, CSA University of Agriculture and Technology. Dr. Solomon in his address called upon the sugar industry to set up "Quality Management Circles" for control of parameters at various unit operations during sugar production so as to produce good quality sugar with lower inputs. In his key note address, Prof. Narendra Mohan, Director, NSI emphasized upon implementation of "Total Quality Management System" in sugar production for production of superior quality sugar considering its use in beverage, confectionery, bakery and pharma industry and also to satisfy the needs of common consumer. Presenting the HACCP model (Hazard Analysis and Critical Control Point Model) for sugar industry, he said, it's implementation shall not only improve quality and productivity but shall also help in addressing environment concerns.
Shri P Rajesh, Scientist, Bureau of Indian standards highlighted the importance of harmonization of Indian sugar standards with the global standards for quality improvement and ease to doing business. He also presented details regarding recently formulated Standards for some specialty sugars viz liquid sugar and demerara sugar etc. Dr. (Mrs) Vasudha Keskar, Managing Director, Marc Labs, Pune and Referee, International Commission for Uniform Methods of Sugar Analysis presented details of recent developments in analysis of sugars for various parameters. She stressed upon development and adoption of colour based monitoring system in sugar factories along with purity based monitoring system which will help in producing low colour sugars which can be sold at premium prices. She presented details of such "Sucroscan System" developed by her. Shri Mohit Kumar, STA of NSI, Kanpur also made a presentation on "Standard Operating Practices" to be followed for making good quality sugar at lower cost of production.
The programme was conducted by Dr. Ashutosh Bajpai, Professor Sugar Tech.

To Listen NSI's one day national seminar News click on the player button.