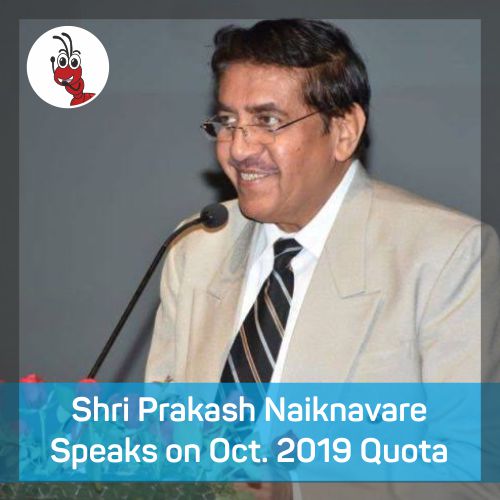 The announced sugar sale quota for the month of October is likely to bring sweetness in the market with the ongoing Hindu festival Navratri/Durga Puja and the dawn of the Diwali. Past a few months the sugar millers across the country have been striving hard to sell sugar despite various measures taken by the Government. The on-going and upcoming festival demand is likely to improve the sugar millers' cash flow and the financial position which has been influenced with weak selling, cane arrears and incessant rains in majority states.
In a conversation with ChiniMandi.com, Mr.Prakash Naiknavare, Managing Director of National Federation of Cooperative Sugar Factories expressed his views on the announced quota for sugar sale in October 2019. He said, "The announced quota of 21 LMT is in line with actual dispatches/sales of the past sales of sugar stocks in months of October. Coincidently major Hindu festivals falling in October will help strengthen ex-mill realizations which are good for improving the cash liquidity at sugar mills' level."
In a notification issued on 30th day of September 2019, the Department of Food and Public Distribution (DFPD) has allocated 21 LMT monthly sugar quota for October to each of 535 mills in India along with added incentivized quota to those mills who have completed their export targets under MIEQ. The allocated quota of October 2019 is 1 LMT lower than the preceding year's October month quota that stood at 22LMT
To Listen sugar quota will aid to improve ex-mill realizations news click on the player button.