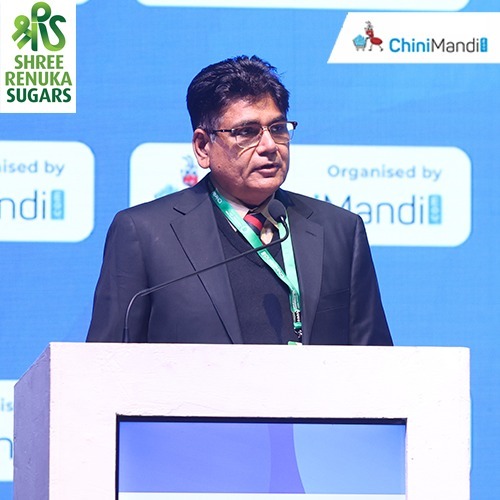 As the 2023-24 season approaches, India's sugar industry is poised for a series of challenges. Limited rainfall in the country's key cane-growing regions has raised production concerns for the upcoming season. Let us gain insights from Mr. Vijendra Singh, the Executive Director & Deputy CEO of Shree Renuka Sugars Ltd, on how the new sugar season might look.
While speaking to ChiniMandi, he shared key insights on the outlook for sugar production, global sugar prices, and the progress of the Ethanol Blending Program (EBP).
When asked about the outlook for sugar production in India for the upcoming 2023-24 season, Mr. Singh expressed concern about the impact of monsoon patterns. India has experienced lower-than-average rainfall during this monsoon season, particularly in the southern sugar-producing states of Karnataka and Maharashtra. While crop numbers will depend on the rains in September and October, as of now, the sugarcane crop is estimated to be lower by 10-15 percent compared to the previous season. However, there is some optimism in Uttar Pradesh, where the crop appears stable and is expected to match last year's production.
Mr. Singh also shed light on the factors behind the surge in global sugar prices. He pointed out that while Brazil, one of the biggest producers of sugar in the world, is estimated to have a good crop this year. Brazil may produce about 38-39 million MT of sugar provided rains are not so frequent during the season which may reduce the uptime of the mills. There is improvement in beet sugar production this year. The production in other sugar-producing countries like India, Thailand, and Pakistan is seeing a drop in sugarcane crop volumes. As India is no more a sugar exporter, global markets are short by about 6 million MT of sugar. These factors are causing the global prices to soar high.
Regarding India's Ethanol Blending Program (EBP), Mr. Singh stated that the progress of EBP has been satisfactory in Ethanol Supply Year (ESY) 2022-23, and they hope to achieve a target of 11.6% blending in the current ethanol supply year by supplying approx. 500 crore liters of ethanol. In the last ESY 21-22, ethanol supplied was 433 crore liters, and 10% blending was achieved.
However, he highlighted potential challenges for the upcoming season. The supply of ethanol from Karnataka and Maharashtra (KN & MH) is expected to decrease due to a shortage of sugarcane, and distillery operations will also reduce proportionately. In the current year's supply, only about 20% of ethanol is produced from grain and it is seen that grain-based ethanol is taking more time to pick up. To boost grain ethanol production and supplies, government has recently incentivised the grain ethanol by 3.71/litres. However, as the raw material prices have increased, the grain ethanol production has slowed down.
Mr. Singh believes that Oil Marketing Companies (OMCs) need to increase the price of ethanol from sugarcane to maintain the momentum of production and supplies in sugar season 2023-24. With sugar prices remaining firm, there will be a tendency for mills to produce more sugar than ethanol unless ethanol prices become lucrative enough.
As the upcoming sugar season is likely to be marked by ups and downs, stakeholders will closely monitor the monsoon's progression, global market dynamics, and government policies to assess their impact on the crushing season.
When asked about his views on the Global Biofuels Alliance, Singh said that this is a welcome move from the Government of India. This global alliance will boost technology transfer and trade of Biofuels. Sustainable Aviation Fuel (SAF) framework has been set up in Europe and will open up a new market for India and the sugar industry could be a front runner in adopting the new technology. This will also bring investment, employment and boost to our rural economy.