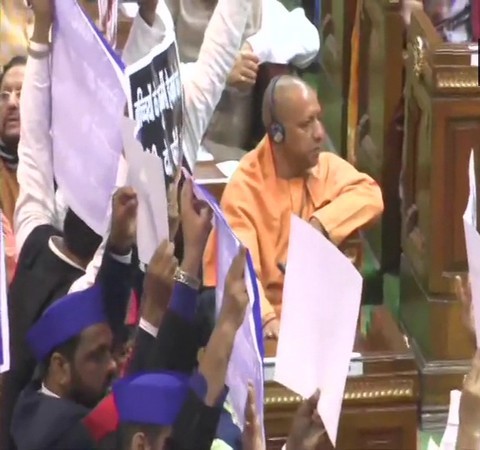 Lucknow: Sugarcane farmers are the major voters in Uttar Pradesh, therefore political parties don't leave any stone unturned to be in their good books. Sugarcane arrears is one of the major issue cane growers are struggling with, therefore opposition parties are now launching an attack on the government over pending dues.
Opposition MLAs in Uttar Pradesh on Thursday staged a protest in assembly as Governor Anandiben Patel started to deliver the speech.

Carrying placards they protested against many issues including payment of arrears to sugarcane farmers. The MLAs protested against the Citizenship Amendment Act and National Register of Citizens, among other issues like law and order situation in the state. Protesting MLAs started shouting slogans against Uttar Pradesh government and Chief Minister Yogi Adityanath.
Sugarcane growers in the state claim that their financial condition is worsening day-by-day as they have not received dues from mills. Farmers assert that they are unable to feed their families, nor able to pay school fees of their children. On the other hand, the government instructed administration to make sure that sugar mills clear dues on time.
 To Listen to this News click on the play button.