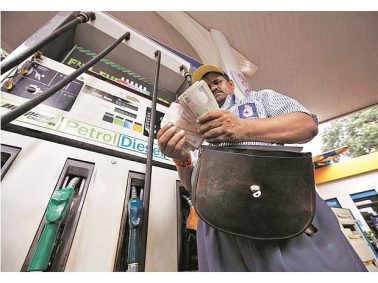 Petrol and diesel prices rose across major cities on Sunday. While petrol prices went up by 14 paise, diesel prices have been hiked by around 30 paise. In the national capital, petrol is priced at Rs 81.82 per litre, up from Rs 81.64 on Saturday. With a similar hike, petrol is now being retailed at Rs 87.29 in Mumbai, Rs 83.66 in Kolkata, Rs 85.04 in Chennai. Diesel prices also rose in tandem with the petrol prices. Cost of diesel in the four metros of Delhi, Kolkata, Mumbai and Chennai is at Rs 73.53, Rs 75.38, Rs 77.06 and Rs 77.73 per litre, respectively.
The increase in transport fuel rates comes amid a continuous surge in crude oil prices. On Thursday, Finance Minister Arun Jaitley announced a cut in excise duty by Rs 1.50 a litre. Additionally, the state-owned oil marketing companies (OMCs) have been mandated to reduce prices of petrol and diesel by Re 1 a litre. The move led to concerns that government might again start regulating prices. However, Finance Minister Arun Jaitley on Saturday sought to assure investors that the government would not go back to regulating fuel prices. "Let me categorically assure all that there is no going back on deregulation of oil prices," Jaitley said.
Prime Minister Narendra Modi freed up the price of diesel in October 2014 after a decade of regulation, saying it would encourage competition among vehicle fuel retailers and enhance efficiency in oil company services.