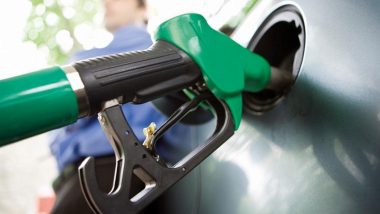 Fuel prices continued the upward trajectory to break their own records of highest rates and touch the fresh highs across the country on September 16.
The petrol price is marching towards the Rs 90 per litre-mark in Mumbai on the day with an increase of 28 paise per litre. The revised price of petrol was recorded at Rs 89.29/litre. The diesel price also jumped 19 paise per litre and touched Rs 78.26/litre, highest ever in Mumbai, according to a price notification issued by Indian Oil Corporation (IOC).

In Delhi, the petrol reached close to the Rs 82/litre-mark. As per the state-owned oil company, the fuel price shot to Rs 81.91/litre with an increase of 28 paise/litre. The diesel touched Rs 73.72/litre, up 18 paise for a litre from September 15.
The hike was higher in Chennai, as compared to Mumbai and Delhi. The increase in petrol price was recorded at 30 paise/litre in the city, reaching a new high of Rs 85.15/litre. Diesel is priced at Rs 77.94/litre after recording an increase of 20 paise/litre.
Another metropolitan city Kolkata also witnessed a price hike but the increase was slightly lower compared to other cities. The petrol price was hiked by 27 paise, while diesel 18 paise, for a litre each. The revised prices were Rs 83.76/litre and Rs 75.57/litre for petrol and diesel, respectively.
Fuel prices have been on a rise since mid-August, rising almost every day due to a combination of a drop in rupee value against the US dollar and the rise in crude oil prices. The Opposition parties led by Congress had on September 10 called for a nationwide shutdown to protest against the escalating prices of fuel and other essential items. They have been constantly calling for a cut in excise duty to cushion the spike in fuel prices.
Meanwhile, Bharatiya Janata Party (BJP) president Amit Shah has blamed international developments as a root cause for the rising petrol and diesel prices and dipping rupee value. Shah had said that the Centre will come out with a solution soon.
The BJP chief on his visit to Hyderabad on September 15, said, "It was due to some developments that took place globally. (The) Trade war between US and China and issues between the US and oil-producing countries. Because of these global reasons these developments are taking place. We are also concerned about this. A solution is also being found out. Within a short time, the government will take a stand on these issues and come out."