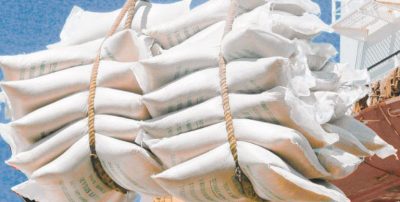 The Philippines government is planning to deregulate or relax regulations on sugar imports this year, Budget Secretary Benjamin Diokno announced on Wednesday.
In a press briefing, Diokno said the current policy of the Duterte administration was to ease up on imports of select farm goods following the lifting of quantitative restrictions on rice. "Next is sugar, you know why? Because it's one of the inputs to our potential export," he told reporters. "Sugar in the Philippines is very expensive compared to the global rate. So we plan to deregulate or relax," the Budget chief added. Asked for a timeframe, he replied that the plan could be implemented within the year. "You have to relax the rules on importations, because it puts pressures on the domestic economy to compete with the rest of the world," Diokno said. While admitting that deregulation of sugar imports would eventually hurt farmers, he emphasized that it would, in turn, be good for consumers. "Greatest good for the greatest number," he said.
The Department of Agriculture has said that the Philippines was set to import up to 300K MT of sugar to address continued price increases. The Sugar Regulatory Administration (SRA), meanwhile, has noted that while farmgate prices were enough for sugar producers and farmers, retail prices remained too high. The average mill gate price of raw sugar is currently at P1,450 per 50-kilo sack while refined sugar costs about P3,100 per 50-kilo sack, the SRA said. The cost of producing sugar was about P2,100 per 50 kilos, which means a P42/kilo price for consumers. The average retail price of the sweetener, however, stands at about P50 per kilo, the SRA said.
Download ChiniMandi News App: http://bit.ly/ChiniMandiApp