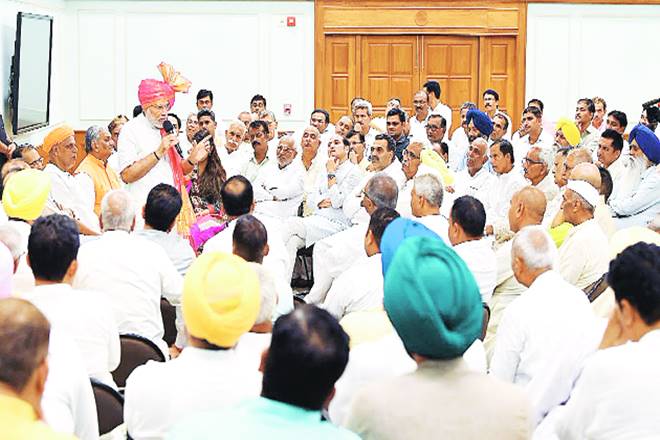 While sugarcane farmers in Uttar Pradesh are up in arms against delayed cane payments from mills, Prime Minister Narendra Modi announced on Friday that the government would increase the fair and remunerative price of the cash crop for next season in 15 days while the minimum support prices of kharif crops will be announced next week.
In an interaction with a group of over 140 sugarcane farmers from Uttar Pradesh, Maharashtra, Karnataka, Uttarakhand and Punjab, Modi said the FRP for October-September season would provide incentive to those farmers whose recovery from sugarcane will be higher than 9.5%. The FRP was Rs 255/quintal for 2017-18 season.
The PM also said that more than Rs 4,000 crore of arrears have been cleared by mills in past 7-10 days due to various decisions taken by the Centre to liquidate the arrears of sugarcane farmers. Modi also told the gathering that interventions made by the government in 2014-15 and 2015-16 eased the burden of farmers, who were waiting to receive over Rs 21,000 crore cane arrears from mills.
As per the official data, cane arrears soared to Rs 22,654 crore as of June 1 but it has now declined to Rs 19,816 crore as of June 25. However, not much has been cleared in Uttar Pradesh, where farmers are waiting to receive Rs 13,170 crore from mills until now. The arrear in UP was `12,367 crore as of June 1. Sugar mills' dues in Maharasthra have declined to Rs 1,765 crore from Rs 1,908 crore. In Karnataka, the cane arrears have reduced to Rs 1,446 crore from Rs 1,892 crore between June 1 and June 25.
Modi said state governments have been requested to take effective measures for liquidation of cane arrears.
The Prime Minister also announced that the Cabinet would approve next week the much-awaited minimum support price (MSP) of 150% of the input cost for the kharif crops. He said this would ensure a significant boost to the income of farmers.
The Centre has taken a number of steps in the recent past aimed at reducing cane arrears. It has doubled import duty on sugar to 100%, and approved Rs 1,540 crore export incentive scheme, under which Rs 5.50/quintal direct transfer to bank account of cane farmers on behalf of mills is allowed. The Centre has also allocated Rs 1,175 crore as interest subvention to create 30 lakh tonne of sugar buffer stock.
India's sugar production in 2017-18 season is estimated at record 32 million tonne against an annual consumption of about 25 million tonne. The output for next year also seen at similar level since the sugarcane acreage is higher from last year. According to the agriculture ministry data, the sowing area under cane rose to 50.01 lakh hectare as of June 29 from 49.48 lakh hectares in the year-ago period.