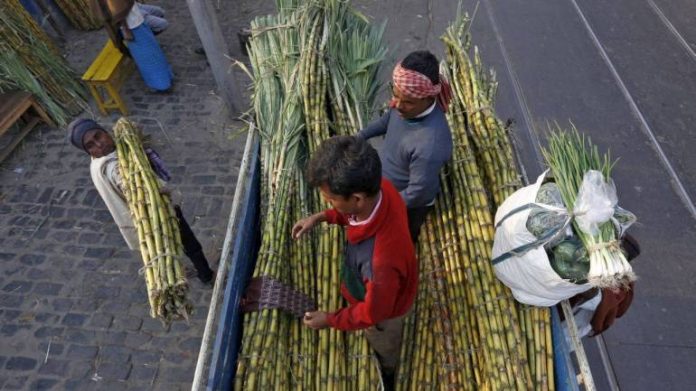 We know we're approaching a season of elections. How? MSP and FRP are back in the news.
The centre has raised the FRP, or Fair and Remunerative Price, of sugarcane by 20 rupees per quintal to 275.
FRP is the price sugar mills pay farmers for sugarcane. FRP is used in the sugarcane industry as an alternative to MSP. It traces its origins to the 2012 Rangarajan Committee report which found that almost three-quarters of input cost in producing sugar comes from purchasing sugarcane. Higher FRPs tend to increase the burden on sugar mills.
Following a sugarcane glut in 2017-18, dues to farmers reached a record level of Rs.20,000 crore. This forced the government's hand, leaving them little choice but to announce a bailout package in June- a whopping Rs 7,500 crore.
On June 29 this year, Prime Minister Narendra Modi met 140 sugarcane farmers and assured them the government would announce new prices within two weeks. These prices were expected to be higher than those in the previous season. It was reported the government also plans to give incentives to farmers who sell cane having recovery higher than 9.5%.
As per the details worked out by the union government, farmers stand to make a premium of 2.75 rupees for each 0.1% increase in recovery over and about 10%. The total payout to sugarcane farmers in the 2018-19 season could work out to Rs 83,000 crores, which is 3,000 crores more than the current season, said Food Minister Ram Vilas Paswan.
The new rate is a 7.8% rise year-on-year compared to FRP for the last year. Now, sugarcane farmers will receive an FRP of Rs 275 per quintal for a sugar recovery rate of 10% during the 2018-19 season that starts in October. Sugar recovery rate is the amount of sugar extracted from sugarcane. This rate was 9.5% last year. So the latest rise in FRP effectively translates to a raise of five to ten rupees per quintal, according to some reports. This will be about 77% more than the production cost of Rs.155 per quintal, one government statement claimed. It set a basic recovery rate of 10 % based on the recommendations of the Commission for Agricultural Costs and Prices, or CACP. The CACP is a statutory body which advises the centre on pricing policies for major farm produce. Central governments have tended to accept CACP recommendations.
There were reports earlier this month that the Prime Minister's Office had asked the Food and Consumer Affairs ministry to examine the minimum selling price (MSP) of sugar, which was at Rs 29/kg. The industry wants a price of Rs 33/kg for the southern and western regions, and Rs 35/kg in northern India. The Economic Times wrote that the FRP fixed by the central government is the minimum price that sugarcane farmers are legally guaranteed. The new hike will impact farmers in Andhra Pradesh, Karnataka, Maharashtra, Tamil Nadu, Madhya Pradesh and Gujarat who are paid by sugar mills as per FRP rates. In other key states like UP, Punjab, Haryana, Tamil Nadu and Uttarakhand, farmers are paid as per State Advised Price fixed by state governments. This State Advised Price is usually higher than FRP. Bloomberg said in its report that this increase in FRP could very well result in states like Uttar Pradesh raising their own advisory prices.
Some analysts have noted that even the current frp of Rs 255 per quintal is unaffordable for mills. Avinash Verma, director general of lobbying bnody Indian Sugar Mills Association also said that dues owed to farmers still stand at over 18,000 crores. He said, "The increased FRP will be more unaffordable for the sugar mills…unless concrete and focused steps are taken to help improve ex-mill sugar prices to at least Rs.35 per kg." Some other sugar traders have claimed the cost of production would increase by Rs 1,000-1,500 per tonne if FRP goes up.
The ISMA estimates that this fiscal will cause more problems – sugar production during 2018-19 is likely to rise 10% year-on-year to more than 35 million tonnes. Domestic consumption of sugar in India is estimated to be around of 25 million tonnes. The USDA Foreign Agricultural Service ,. In its own estimates, said India is likely to consume a total of 26.5 million tonnes of sugar every year. That makes us the highest sugar consuming country in the world. But india is already the second-largest producer of sugar, so our supply is doing just fine.
Experts estimate that India needs to export, at a minimum, six million tonnes to improve the cash flows of mills. Verma says, "Cane price payment next year would be Rs.97,000 crore, which would be difficult for the sugar mills…"
While the sugar industry argued the hike was too steep, farmers claim it is too insubstantial. VM Singh, a noted sugarcane farmer leader from Uttar Pradesh contested the the average cost quoted by the Food Minister Ram Vilas Paswan. He claims the effective increase is "less than peanuts" because the centre has increased the basic recovery rate from 9.5 % to 10 %. He asks, "…the effective increase was less than 7 rupees per quintal. Who is this government trying to fool?"
While the opinion on either side is less than exultant, some analysts say the numbers don't bode well for sugar mills in particular. According to an Indiainfoline report,Sabyasachi Majumdar, Senior VP with ICRA Ratings, cautioned about the pressure on sugar mills and a fallout on state-advised prices. He said, "The effective increase in the FRP is 2.5% for the season SY2018-19, and this is likely to result in an increase in the cost of production of sugar by nearly Rs600-700/MT…we expect pressure on sugar realizations in SY2019…mills are likely to report a decline in the margins. Further, this increase in the FRP could also trigger an increase in the state-advised price (SAP) set by the state governments in states that follow the methodology."
In an interview with ET, M Manickam, Executive Chairman of Sakthi Sugars in Coimbatore, said that the effective FRP increase of 5-10 rupees per quintal isn't a big impact per se, "it is adding one more straw on the camel's back. The breakeven is currently at Rs 34 and we are getting about Rs 29-30. We are about Rs 4 under water. And this will probably add another Rs 1 to 2 on top of that. So, it is going to be critical."
He also added that India is producing too much sugar, and warned, "In the export market, you will incur a loss of over Rs 14."
Explaining the problem with some worrying numbers, Manickam said the industry started the year with 4-5 million tonnes of opening stock. They have produced 32 million tonnes this year while domestic consumption hovered at around 24.5 million tonnes. So, there has been an addition of 7 million tonnes to the existing surplus. That makes approximately 10-11 million tonnes closing stock for this year. Next fiscal, production will be around like 34 million tonnes. Take into consideration a 26-million-tonnes consumption, and we're looking at 8 million tonnes of stock. That's a massive 19 million tonnes as closing stock next year. Manickam says, "There is no way we can export that because our cost of production is Rs 34, (while) the global price is at Rs 20. I do not know how we are going to cope up with the surplus at this point of time."
Manickam says production needs to drop down somewhere closer to 28 million tonnes for the situation to normalize. But he admits candidly that doesn't see that happening.
2017-18 saw high output meet low prices, in India as well as globally. Bloomberg reported that as consumers become increasingly aware of the impact on health their sugar cravings are having, companies are increasingly marketing and selling products with lower sugar content.
Research firm Green Pool Commodity Specialists estimates that even as global consumption rises, the rate of growth has fallen to an average 1.4 % in recent times from 1.7 % over the last decade. Unfortunately, for India's sugar industry, this change is happening at a time when production is booming in India, Thailand etc. The US Department of Agriculture.claimed worldwide stockpiles could swell to the highest ever this season, and hit similar levels next year as well. Sugar futures in New York tanked 25% in 2018. That's marks the largest loss on the Bloomberg Commodity Index, which tracks returns for 22 components.
Donald Selkin, a New York-based chief market strategist at Newbridge Securities Corp., which oversees about $2 billion, believes global prices of sugar will remain low for a while. He said, "Everybody is trying to do away with sugar and sugary products. You see that in supermarkets and grocery stores. Demand is going to remain less than what's been in recent years. The price is doomed to stay low for a while."
Australia-based commodity specialists Green Pool published a report in June that said global production will top demand by a massive 19.6 million metric tons in the 12 months that end Sept. 30. That is the biggest commodities overhang ever. Even as India plans to sell 6 million tonnes in the international market, in Brazil – the largest producer of sugar – surging ethanol stockpiles and tumbling prices for the biofuel could see cane millers process more of their into sugar.
So, leave alone 6 million tonnes of export, India's minimum export quota of two million tonnes will likely not be met. According to India Ratings and Research, profitability and credit ratios of sugar companies will continue to remain stretched in the current fiscal. So, with a less than ideal forecast for sugar producers, next year is the only realistic hope. And even that could prove to be a bleak hope – expecting that the current low prices of sugar could see crop planting decline in other countries seems a bit of a stretch.
Even though the government stepped in to support sugar prices, chiefly goaded by mounting cane arrears owed to farmers, the arrears remain at 17,825 crore rupees. Sugar mill shares fell on Thursday in response to the FRP hike. Mint noted that in a free market, prices would have fallen, but politics seems to have trumped economics in an election year. The FRP hike doesn't help at time there is a global sugar glut. Uttar Pradesh-based Balrampur Chini Mills' management recently announced, in a conference call discussing Q4 results, that production cost stood at Rs 31 per kilo of sugar against the then ex-mill price of Rs 26 per kilo. Subsequently, the government introduced a minimum sale price of Rs 29 per kg of sugar.
While sugar mills have a miserable time of it, they are, as per reports, ensuring the government is funding its own populism. For instance, if the government sets sugarcane prices, companies sit on cash payments. Money on paper is of little use to farmers, so their anger forces governments negotiate. This process look set to repeat in 2018-19. As a short term fix, the government's rescue efforts seem to have borne fruit. The wholesale price of sugar M-30 grade stood at Rs 34 per kilo, compared to Rs 27 per kilo in May. However, stock limits restrict how much sugar mills can sell, thereby limiting revenues and blocking money in inventory. The price may have risen but it is also a notional increase.