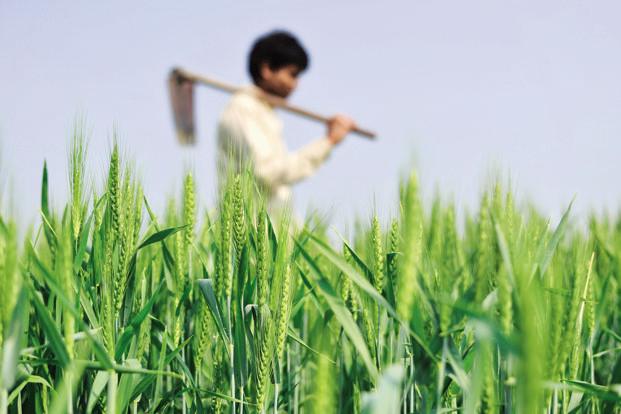 Milk, sugar, pulses, vegetables. Name any agriculture commodity in India today, and the most compelling image that comes to mind is of farmers dumping them by way of protest against falling prices and rock-bottom returns.
All of a sudden, agri-surpluses, the proximate reason for falling prices and farmer distress, appear to have become a pervasive problem from Uttar Pradesh to Maharashtra. Long habituated to shortages, this problem of plenty is causing headline-attracting farmer agitations against falling rural incomes, worsened by 2016's demonetisation and the rushed introduction of the Goods and Services Tax in 2017.

This is a novel experience for Indian policy-makers, who are struggling to come up with adequate responses. The fact is, however, that this is not a one-off development; steady growth in agricultural output has become more frequent over the past few years. This novel situation, however, raises a key question about the future: Is India about to become a surplus agri-producer from here on? Are we looking at food mountains and milk lakes just as Europe did in the eighties, under the impact of generous farm subsidies?
Sceptics say it is too early to predict whether India has entered into a prolonged period of surplus in agricultural commodities. In fact, they add, unless fundamental problems associated with markets, storage, distribution, rainfall not to forget tariffs are addressed, surpluses can turn into shortage at very short notice.
"I don't think the situation of over-supply will remain for a long time. It is possible over the next one or two years that supplies of some crops may exceed demand. But once economic growth improves and prices start moving north, it remains to be seen, how the supply situation responds," said Mahendra Dev, Director of Indira Gandhi Institute of Development Research (IGIDR) and former chairman of Commission for Agriculture Costs and Prices (CACP).
Data of the past ten years, sourced from a range of official sources, show that, except for milk, the production of most food crops has fluctuated sharply, depending upon that year's rainfall distribution, price and trading curbs.
Consider pulses before the current jump, India reached its highest-ever production of pulses at 19.25 million tonnes in 2013-14, but two consecutive drought years pulled output to 17.15 million tonnes in 2014-15 and 16.35 million in 2015-16. As a result the prices of some pulses, mainly arhar, had touched almost ~200 per kg, before the government intervened by fast-tracking imports and even scouting for countries in Africa to grow pulses for Indian consumers.
And all this happened only a few years back. In other words, it could happen again unless India finds a major technological breakthrough, such as the introduction of the new high-yielding arhar variety PUSA-16. Indeed, such developments have been the key reason for the dramatic upswing in sugarcane production, principally the new C0-0238 variety, developed at the Karnal regional centre of the Sugarcane Breeding Institute. This and other high-yielding varieties of sugarcane can be expected to ensure that, apart from significant climate change in sugarcane growing areas or if farmers replace sugarcane for other crops in the face of repeated payment failures, production will expand at a steady pace.
The current surpluses may also be an indicator of low demand. "The surpluses that we are seeing in many commodities is now could also be due to the fact that a significant section of the population hasn't seen a big rise in income levels in the last few years; demand will rise when incomes rise," said Shashanka Bhide, Director of Madras Institute of Development Studies (MIDS).
In the short-term, he added, there could be sudden surpluses in some commodities, but the long-term perspective of any surplus situation in agriculture should be seen in the context of income growth at lower levels, which represents potential demand that hasn't been realised.
"Unless prices decline more or this hidden demand is fully realised, we can't say that India has reached a position of perpetual surplus in farm commodities," he points out.
"No one can predict, as of now, whether there are perpetual surpluses, although for the next two or three years or so, India is very comfortable in most agriculture commodities. But these surpluses can disappear quickly, if India hits a back-to-back drought as in 2014-15 and 2015-16," said Ashok Gulati, Infosys Chair Professor for Agriculture at the Indian Council for Research on International Economic Relations (ICRIER).
The question, of course, is how the government should respond. Whether in surplus or shortage, Gulati points out, the government needs to shift from a pro-consumer bias to a pro-farmer or, at least, give him (farmer) a neutral platform. "What this implies is that we need to abolish the Essential Commodities Act (ECA), allow the private sector to hold stocks, and enable organised retail. It also requires contract farming, especially in perishables, bypassing the Mandi system and pushing through reforms of the Agriculture Price Market Committees, which are long overdue," Gulati added. "Only then one can hope some structural turn around. Short term fixes of export subsidy or government stocks may not help much," he said. This possibly temporary problem of plenty, therefore, could provide a good opportunity for deeper reforms that the shortage economy precluded.