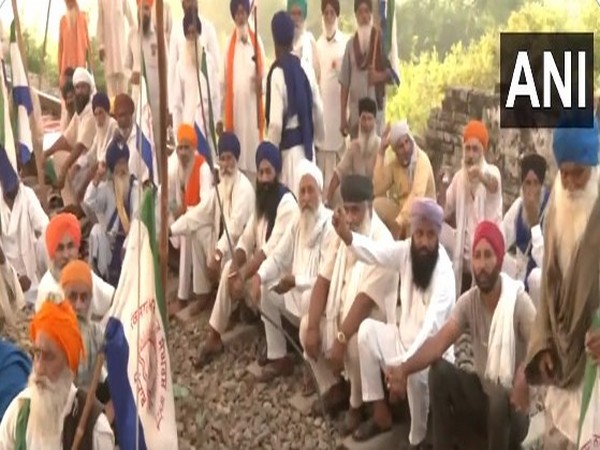 Amritsar (Punjab): Farmers in Punjab continued the "rail roko" protest on the second day in Amritsar demanding a committee for Minimum Support Price (MSP), a financial package for losses caused by recent floods, relief from agricultural debt and withdrawal of cases regarding agitation in Delhi in 2020-21.
The three-day protest called by farmers in Punjab's Amritsar led by the Kisan Mazdoor Sangharsh Committee began on Thursday and will continue till Saturday (September 30).
Visuals from the protest site showed hundreds of farmers sitting on railway tracks, raising slogans for their demands. Due to the protest, several trains on the Ambala-Shri Ganganagar route were cancelled on Thursday.
As many as 18 trains of the Firozpur division, have been affected as members of various farmers' bodies squatted on train tracks in Ferozepur.
A railway official of the Firozpur (FZR) division on Thursday said that the services of as many as 18 trains have been hit till now on the first day of the rail blockade agitation.
"Of those, 12 trains, which set off from and arrive here have been cancelled and the remaining, long route trains, have been diverted," he said.
Sarwan Singh Pandher of Kisan Mazdoor Sangharsh Committee, who was present at the protest said, "If anyone tries to be unfair with the farmers of Punjab, then farmers from Haryana will also join Punjab farmers. Farmers are united throughout the country."
"The agitation has been called by 18 unions in North India. Home Minister Amit Shah came to Amritsar and he promised to bring MSP guarantee law but the committee has not been formed yet. The cases that had been registered during the Delhi agitation have not been withdrawn," Pandher said.
Police official Balvir S Ghuman said that massive security has been deployed to deal with the situation.