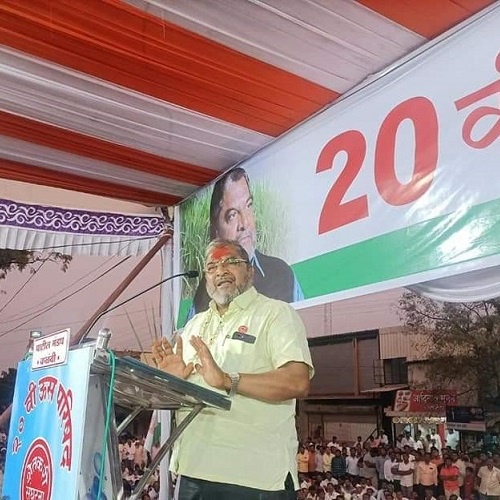 Pune: Former MP and Swabhimani Shetkari Sanghatana leader Raju Shetti has demanded Rs 3300 per tonne as the first installment for the sugarcane sold to the sugar mills for crushing season 2021-22.
The amount is Rs 400 more than the fair and remunerative price (FRP) declared by the centre for sugarcane.

Shetti made the announcement at the 20th congregation of the sugarcane farmers (Oosh Parishad) organised at Jaysingpur in Kolhapur district on Tuesday.
This was the first cane conclave organised after outbreak of COVID-19. Addressing the gathering, Shetti also demanded the sugar mills to pay Rs 150 as last installment of the 2020-21 crushing season before Diwali. Pointing out at the increased sugar prices Shetti said that the sugar mills can afford to pay more than the FRP fixed by centre. The government has declared a sugarcane FRP of Rs 2900 per tonne for 2021-22 crushing season.
He also said that said the Centre should increase the minimum support price (MSP) for sugar to Rs 37 per kg and waive the goods and services tax on it for one year.
To receive ChiniMandi updates on WhatsApp, please click on the link below.
WhatsApp Group Link