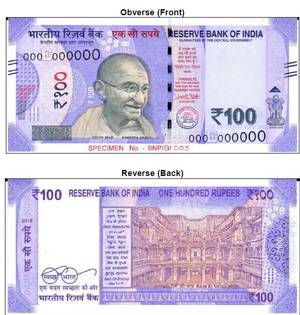 The Reserve Bank today said it will soon issue new Rs 100 notes in lavender colour having motif of 'Rani ki vav' – a stepwell located on the banks of Saraswati river in Gujarat's Patan.
"All Rs 100 banknotes issued earlier will also continue to be legal tender," the central bank said while announcing the issue of the new Rs 100 notes.
The base colour of the note is Lavender.
The note has other designs, geometric patterns aligning with the overall colour scheme, both at the obverse and reverse.
Dimension of the banknote will be 66 mm x 142 mm, making it smaller than the current Rs 100 notes. The size of current Rs 100 notes is 157 mm x 73 mm
"As is normal, when a new design of banknote is introduced, printing and supply of these notes for distribution to public through the banking channel will gradually increase," said the RBI, which issues currency in the country.
The new Rs 100 note follows, new notes in denomination of Rs 10, Rs 50 and Rs 500.
Besides, the central bank introduced a Rs 200 note in addition to currency note in denomination of Rs 2,000 after the demonetisation on November 8, 2016.