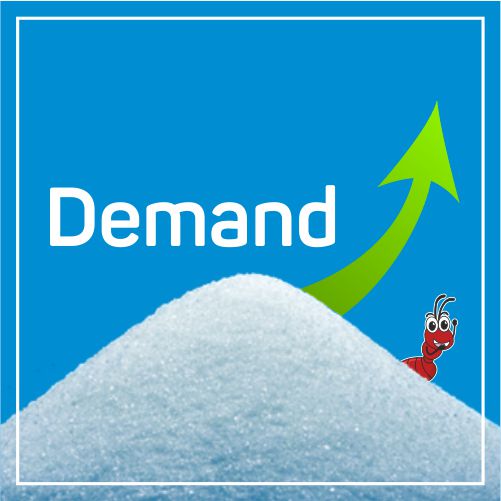 The outbreak of Covid-19 pandemic had sharply hit the bakery, savoury snacks, functional food products and branded Indian candy, gums, juices and chocolate categories. Experts expected to recover fast with a V shape growth curve.
Now with the roll out of vaccines, most of the categories including biscuits, confectionery and beverages have gone up significantly. Small business consumption that includes tea shops, roadside shops, office canteens, restaurants, caterers and sweetmeat have also started bouncing back to the pre-covid levels despite a clear shift in people's preferences for eating habits towards packaged food items. The rising demand witnessed has uplifted the spirit of the Indian sugar industry with "sugar" being having some content be it any item including ketchup, beverages, ready to eat items, savory, etc and more.

According to a major bulk buyer, Consumption is certainly bouncing back to pre-covid levels. Demand for quick-pick food, fast food etc is also rapidly growing in developing markets as a result of busier lifestyles. This growing trend of consumption has also added accelerated activity in the FMCG sector."
Since a month the sugar industry has been on an uptrend. Market sentiments have been quite positive with good demand witnessed where millers have been closing sales before than usual. Domestic sugar prices have soared almost ₹200/Quintal after depressed prices which averaged at ₹3150 for over 7 months in the wake of surplus sugar production for the sugar season 2019-20 and 2020-21. The sugar industry is seeking a hike in Minimum Selling Price (MSP) of sugar from ₹3100/MT to ₹3450-3500/MT that remained static for over 30 months that will help sugar mills accommodate the higher cane price payment to farmers in the current as well as the upcoming sugar season.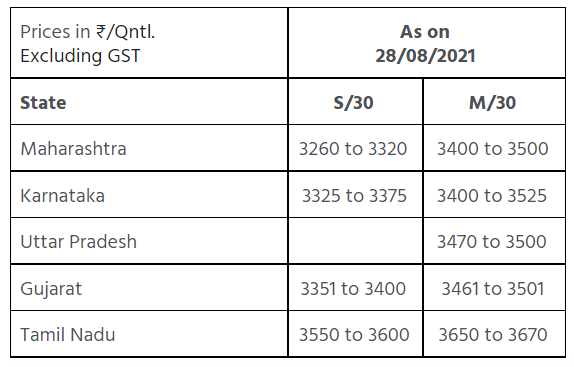 In a notification issued on 27th day of August 2021, the food ministry has allocated 22 LMT for domestic sugar sale in the month of September 2021. The allocated quantities for domestic sugar sale for Sugar Season 2020-21 sums to 256 LMT which is around 5% higher than the previous sugar season.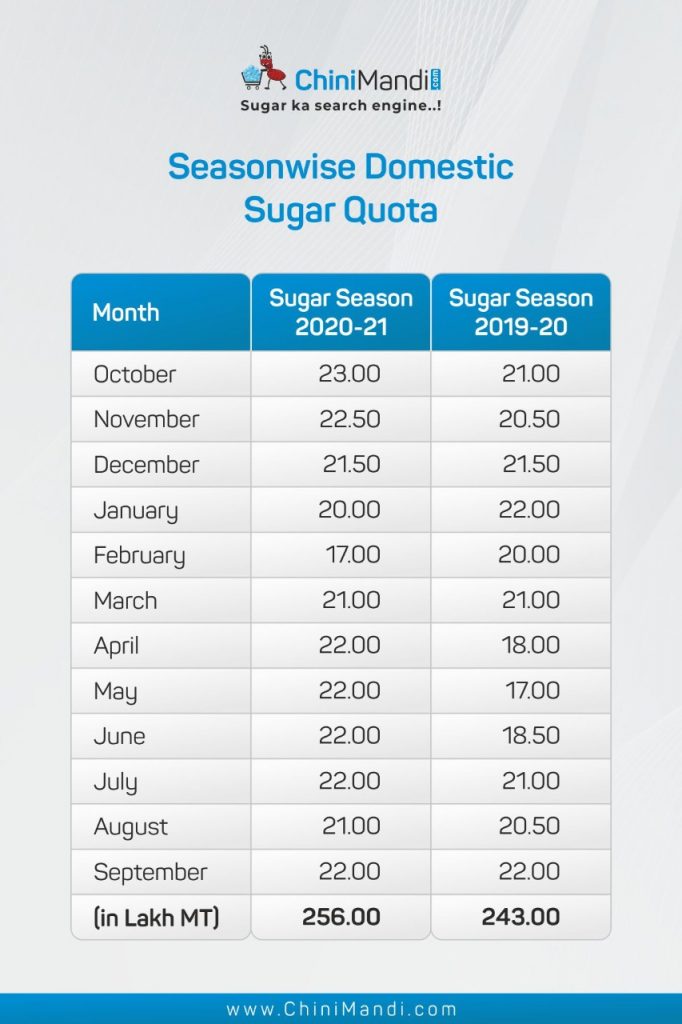 Commenting on the allocated sugar quota for sale in September 2021 Mr. Prakash Naiknavare – Managing Director of National Federation of Cooperative Sugar Factories said, "The average of actual dispatches which took place in the last five years in the month of September is 20.5 LMT in comparison with that the quota is slightly on a higher side. Maharashtra has been witnessing a transporters strike which has left sold stocks of August month's quota unlifted for a couple of days, therefore we have requested an extension for August month's quota. The decision is still pending and if announced may bring some pressure in the market however, the festive demand is likely to keep the market bullish."
While an Uttar Pradesh based trader who doesn't want to be named commented that "It's a balance quota keeping in view demand perspective. The Government of India has been very prudent all throughout the year in giving the quota keeping in view millers and consumers perspective which has led to an overwhelming consumption numbers despite pandemic lockdowns."
Mr. Bharat Gidwani – Director of Sandip Traders, a prominent Maharashtra based trading firm said "The quota is the same as what was allotted in the previous year in the same month. Sugar prices are likely to take a further surge upto ₹100 for the premium quality sugar looking at the festive demand especially in Maharashtra. Overall traders are sensing bullish sentiments in the coming days."