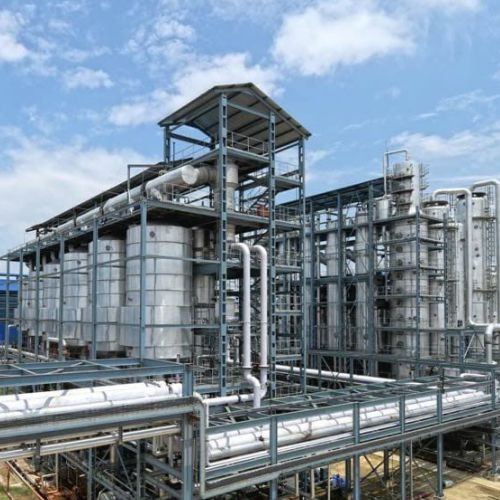 With fuel prices skyrocketing and to reduce the import bills of crude oil, the Government of India has advanced it's plan to achieve 20% ethanol blending with petrol by 2025. The sugar industry & stand- alone distilleries are paving its way in expanding its ethanol production capacity. Companies engaged in distillery and brewery installation businesses have geared up and are exploring newer technologies to attain the best output be it attaining maximum bandwidth in self-reliance in fuel, significant reduction in pollution levels and growth in the rural economy or many more.
Regreen Excel is known to be a well-versed company engrossed in "Concept to Commissioning Company" in the field of Distillery, Bio Fuels, Zero Effluent Discharge Systems and Renewable Energy. The organisation has been a prominent player as an organisation holding worldwide presence with projects and representative smooth service offices PAN India. The company has full- fledged manufacturing facilities in state industrial parks in Pune & Kolhapur (Maharashtra) and also in Kanpur & Ghaziabad (Uttar Pradesh) which controls and improves delivery cycle.

In conversation with ChiniMandi News, Mr. Sanjay Desai, Managing Director, Regreen Excel shared how the company is at the forefront in the sugar industry as an equal contributor for the Ethanol Blending Programme. He shared, "With the Government's focus on increased ethanol production, our efforts are also driving towards new technologies and improvements in existing technologies which will benefit sugar millers and stand-alone distilleries in performance of ethanol production and a sustainable green future that would keep them in sweet spots away from piled sugar stocks or burdens of financial dues. The EBP programme is an excellent initiative that shall fetch good returns to millers seeing the green future in the coming years."
On being asked on a few developments by Regreen Excel, Desai commented,
"At Regreen Excel we have achieved several feathers to our hat, to name a few are,
i) Successful development of "E-Max", "E-max2" and "E-max" Flexi technology for C Molasses, B Molasses and Cane Juice, grains, millets, and raw sugar with zero liquid systems.
ii) Successful implementation of modern 63 ethanol/distillery units PAN India bases in five years each plant surpasses performance benchmarks in terms of efficiency, steam & water usage & ZLD. E-max Distillery plants resulted in ENA which is accepted by all domestic & International Bottlers / Blenders for both Molasses and Grain ENA PAN India
iii) "E-max" plants are of high efficiency, with low energy & water footprint, high grade ENA spirit / ethanol with non-stop operation of evaporation with higher overall availability & least manpower automation.
iv) Single largest plants in operation of 275 KLPD Grain Distillery at CDBL, Chandigarh & 275 KLPD Molasses Distilleries at DSCL Sugars Ltd, Uttar Pradesh built by only Indian Company with 100% make in India approach from concept to commissioning.
"Recently Asia's Largest new ethanol plants using Sugar Cane of Capacity 500 KLPD by Ugar Sugar Works, Karnataka & using Grains of Capacity 450 KLPD by Gulshan Polyols Ltd, Madhya Pradesh have been awarded to the eminent team of Regreen Excel. We have also bagged in recent months more than twelve new ethanol projects using grains, cane syrup and molasses PAN India which will go on production by October 2021." He further added.
To know more about Regreen Excel EPC India Pvt Ltd visit www.regreenexcel.com or write to md@excelengineering.in