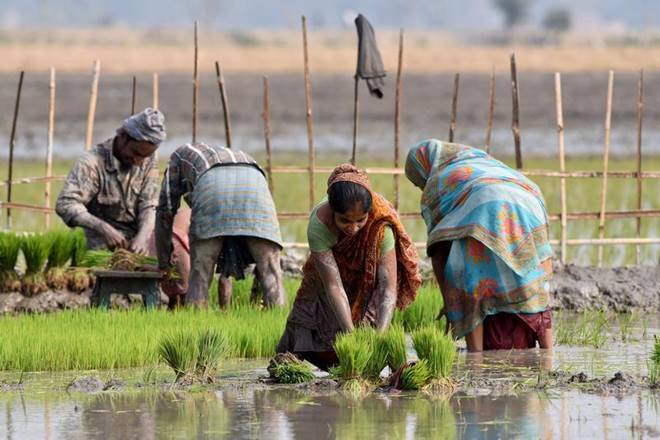 For years, farmers have protested against massive cane arrears and yet they have not shunned cane. The reasons are not far to seek. As the Cabinet committee on economic affairs (CCEA) prepares to decide on the benchmark prices of Kharif crops, an FE analysis of key cane-growing states suggests net returns from key competing crops are only a fraction of what farmers earn from cane, in some cases less than a tenth.
Data by the Commission for Agricultural Costs and Prices (CACP) show the average net return of farmers in Maharashtra from sugarcane was as much as Rs 59,452 per hectare in the three-year period ending 2014-15. This was over 10 times the net realisation from cotton and gram put together (see chart).
Since sugarcane takes at least one year in Maharashtra to be harvested, a farmer can grow two crops, one each in kharif and rabi season, in the absence of cane.
Growers of cotton, the major kharif crop in the state, had net returns of Rs 2,949/hectare while those of grams saw net returns of only Rs 2,291/hectare. The net returns are calculated on the basis of the ambitious C2 cost of production. It factors in actual paid-out costs, plus value of family labour, rent of owned land and interest on owned capital.
In Maharashtra, the returns from the two alternative crops are so meagre that many farmers want to get into sugarcane. Last month, water resources minister Nitin Gadkari had said that it was practically difficult for sugarcane farmers in Maharashtra to abandon the water-guzzling crop and shift to other crops, as the latter are less remunerative.
Sugarcane is grown where there is irrigation, while the state has abysmally low irrigation coverage of about 18%.
Farmers in Uttar Pradesh, the largest producer of sugarcane and sugar, had average net returns of Rs 62,116/hectare between 2012-13 and 2014-15. But the less fortunate farmers who grew paddy and wheat in kharif and rabi season respectively, got a total of only Rs 14,827/hectare as net returns from both the crops.
The government will next week raise the fair and remunerative price (FRP) of cane, maybe to `275 per quintal for 2018-19 season (October-September), against `255/quintal this year. However, in a potential relief to mills already struggling with exorbitant cane costs, the CACP has suggested that the government tighten criterion for farmers to get premium for supplying quality cane. Assuming that the pan-India recovery rate remains the same (10.8%) as this year, the cane FRP will effectively rise just 2.4% per quintal to Rs 297 in 2018-19 — lower than over 14% hike in the effective FRP a year before.
The CACP has calculated the net return by deducting the C2 cost of production from the gross value of output (GVO) and the gross return is defined as GVO minus A2+FL cost. The gross value of output is estimated at the prevailing market prices during harvest season in the village/cluster of villages where the crop is grown and harvested.
"A single formula for MSP is not the appropriate decision, as it has completely ignored demand side and other factors. Price fixation is an important tool for correcting the cropping pattern as happened in case of pulses in recent times," said former agriculture secretary Siraj Hussain. "The government is welcome to fix MSP at 50% over cost, but if other reforms are not undertaken immediately, this may become a liability for the government as India will lose competitiveness in the global market," said food policy expert Vijay Sardana.