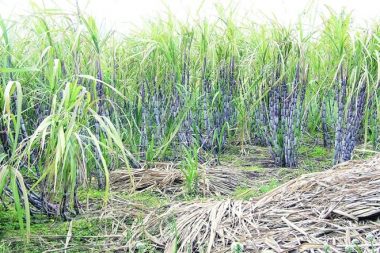 More than Rs 750 crore cane dues, under Fair and Remunerative Price (FRP), by 70-72 sugar factories in Maharashtra still remain unattended.
Farmer representatives from Cane Control Board (CCB) in Maharashtra have sought payments and interest on these dues from the factories failing which, "no new crushing licenses should not be given to these factories."

For the current season, the FRP dues are nearly Rs 221 crore.
Five farmer representatives of the CCB including Prahlad Ingole, member, CCB and president, Swabhimani Shetkari Sanghatana (SSS) Nanded unit , Vitthal Pawar of Shetkari Sanghatana, Shivanand Darekar, Bhanudas Shinde and Pandurang Thorat met Maharashtra Sugar Commissioner seeking payment of pending FRP dues.
Ingole pointed out that 20 factories in Pune division are still holding RSF dues of `50 crore for 2016-17 season.
"The RSF for thecurrent season, 2017-18, should be calculated and fixed and therefore the CCB members have demanded that crushing licenses should not be given unless these pending payments are made," he said.
If FRP payments are delayed, there is a provision of 15% interest and in case of RSF delay, there is a provision for 12% interest.
According to Ingole, RSF for the 2017-18 season is yet to be calculated. For the 2016-17 season, CCB had finalized RSF payment worth `96 crore.
However, at the recent Board meeting, it was revealed that 20 of the 29 mills are yet to pay their share of the RSF. During the meeting, it was decided that a special committee of experts, along with an auditor, will review the way RSF was calculated.
Ingole also said that mills that fail to clear their RSF payment should not be issued crushing licenses.
Revenue Receipt Certificate notices have been issued to 25 factories.
"There are cases where auctions are held six times but there are no takers. In the Mumbai meeting of CCB, a recommendation was made to transfer the land records in the name of farmers. It has been noticed that factories sell the land even if it has been issued a notice under RRC. In case of sale, the government should transfer the farmers dues as per the Ready Reckoner Value ," he said.
FRP base is sugar recovery and the daily recovery reports are sent to the administration and then the rate is decided. These reports should be checked and a farmer representative should be included, he said.
Maharashtra Sugar Commissioner Sambhaji Kadu Patil has warned millers in the state to clear pending fair and remunerative price (FRP) dues of farmers for the previous year before the start of new season.
The state's new sugar season is slated to commence from October 20.