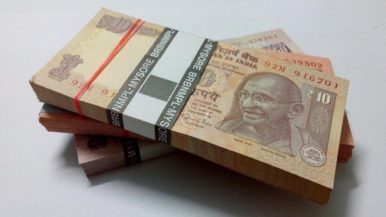 Mumbai, Aug 28 (PTI) The rupee today bounced back in tepid fashion from the record closing low, gaining 6 paise to end at 70.10 against the US currency largely tracking bearish dollar cues overseas.
Most Asian currencies also recouped early losses against the greenback.

Forex trading mood was upbeat after the US and Mexico agreed on a new trade deal to revamp the North American Free Trade Agreement (NAFTA) weakening demand for the safe haven US dollar worldwide.
Investors cheered the development amid lingering trade concerns which have weighed on emerging market currencies in recent months. The Mexican peso recovered more than 1 per cent against the dollar after the deal.
The US dollar fell to near one-month low against global rivals as the new trade deal boosted risk appetite. Against a basket of six currencies, the dollar index was down at 94.48.
Though, the rupee briefly slipped to a low of 70.25 in mid-morning deals, it recovered in afternoon deals amid gains in stock markets and losses in the US currency.
The local unit, finally settled the day at 70.10, revealing a modest gain of 6 paise, or 0.09 per cent. The Indian unit hit a life-time closing low of 70.16 yesterday due to surging crude prices.
Meanwhile, crude price breached the USD 76-mark – its highest since July supported by supply risks emerging from Venezuela, Africa and Iran.
Official data showed that foreign direct investment in India grew by 23 per cent to USD 12.75 billion during the April-June quarter of 2018-19. A report said that the foreign fund inflows would help finance the current account deficit which is expected to widen to 2.8 per cent of the GDP in 2018-19.
The Financial Benchmarks India private limited (FBIL), meanwhile, fixed the reference rate for the dollar at 70.1687 and for the euro at 81.9266.
The 10-year benchmark bond yield ended at 7.90 per cent.
In the cross currency trade, the rupee recovered against the Japanese yen to finish at 63.10 per 100 yens from 63.16 earlier.
The local unit, however, lost further ground against the British pound to close at 90.41 per pound from 90.19 and dropped against the euro to end at 82.00 as compared to 81.53 yesterday.
The euro touched a fresh one-month high against the US dollar, while the pound sterling was largely pressured lower on continuing fears over a no-deal Brexit.
In forward market today, premium for dollar edged down to mild receiving from exporters.
The benchmark six-month forward premium payable in December softened to 102-104 paise from 102.50-104.50 paise and the far-forward June 2019 contract eased to 251-253 paise from 252-254 paise yesterday.