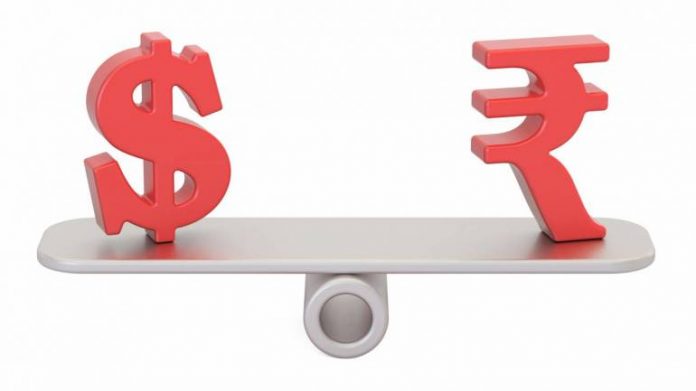 The rupee today made a strong comeback against the US currency after taking a hammering yesterday, recouping by a steep 23 paise to end at 68.57 on fresh dollar selling by exporters and corporates.
Heavy intervention by the Reserve Bank along with positive trend in local equity markets largely supported the home currency.
Overall, sentiment turned increasingly bullish on general dollar weakness related to twists and turns following the US-China trade war rhetoric.
Although, forex market exhibited some nervousness in early trade.
Bruised by multiple negative headwinds, the Indian unit ended at a near five-year low of 68.80 on Monday against the resurgent dollar bull.
The rupee had fell to a record low of 69.10 last week.
Crude prices rose sharply after Libya declared force majeure on some of its crude exports, while the loss of Canadian supplies helped lifted US crude to levels not seen since late 2014.
Brent crude futures, an international benchmark, is trading up at USD 78.25 a barrel in early Asian trade.
Earlier, extending its bearish stance, the domestic unit resumed lower at 68.91 from the last close of 68.80 at the interbank foreign exchange (forex) market.
It hit a low of 68.97 in early deals moving in sync with the weakening of other currencies in the region and also heavily weighed down by steady capital outflows.
Reversing early steep losses, the home unit bounced back in late afternoon trade to trade at a session high of 68.56 before ending at 68.57, showing a smart gain of 23 paise, or 0.33 per cent.
The RBI, meanwhile, fixed the reference rate for the dollar at 68.6935 and for the euro at 80.0211.
The 10-year benchmark bond yield drifted to 7.88 per cent from 7.91 per cent.
On the macro front, growth of eight infrastructure industries dropped to a ten-month low of 3.6 per cent in May due to a decline in production of crude oil and natural gas.
This is the lowest growth rate since July 2017 when infrastructure industries had expanded by 2.9 per cent. The growth rate in April was 4.6 per cent.
In the meantime, India's fiscal deficit in May touched 55.3 per cent of the budget estimate (BE) on account of lower expenditure as compared to 68.3 per cent in the corresponding period last year.
The government had budgeted to cut fiscal deficit to 3.3 per cent of GDP in current fiscal, from 3.53 per cent of GDP in 2017-18.
Meanwhile, the rebound on the local equities came on the back of value buying in beaten down stocks along with some short-covering. The global capital markets also showed some stability after recent drubbing.
The greenback, however, traded lower against its major trading rivals.
The dollar index, which measures the greenback's value against basket of six major currencies, was down at 94.38.
The yuan hit its weakest level against the dollar in 11 months on Tuesday before bouncing back.
In the cross-currency trade, the rupee bounced back against the pound sterling to settle at 90.42 per pound from 90.47 and regained against the Japanese yen to finish at 61.88 per 100 yens from 62.11 earlier.
The local currency also edged up against the euro to close at 79.91 as compared to 80.04.
Elsewhere, the British pound regained some lost ground against the US Dollar after data showed UK construction PMI that accelerated to seven months high of 53.1 in June despite unfavourable situation surrounding Brexit talks might.
The Euro, however remained under downward pressure despite an agreement on immigration deal within German coalition.
In forward market today, premium for dollar showed a steady to easy trend owing to lack of market moving factors.
In forward market today, the benchmark six-month forward premium payable in November was unchanged at 122-124 paise, while the far-forward May 2019 contract end at 270-272 paise from 271-273 paise.