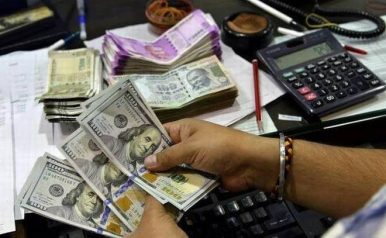 Mumbai, Nov 19 (PTI) The rupee Monday rose by 26 paise to close at a 10-week high of 71.67 against the US currency, extending its winning streak for the fifth straight day helped by steady forex inflows amid a crucial RBI board meeting.
The rupee has gained around 1.68 per cent to scale 10-week high levels in the five-day rally since November 13 as foreign funds returned to capital markets and oil prices retreated.
Stock markets also rose nearly 1 per cent to scale six-week high levels despite the ongoing RBI board meeting also supported the rupee sentiment.
Key issues under consideration in the RBI board meeting were to ease rules for weaker banks, providing liquidity to non-bank finance companies and framing a new capital framework for the Reserve Bank of India, V K Sharma, Head PCG & Capital Markets Group, HDFC Securities said.
Meanwhile, emerging currencies also recovered following signs of easing US-China trade tensions and dovish comments by the US Federal Reserve officials about the world economy.
The rupee, however, outperformed other emerging currencies, an expert said.
Foreign investors put in Rs 1,100 crore on a net basis in capital markets Monday, provisional exchange data showed. FPIs have pumped in nearly Rs 8,285 crore into the Indian capital markets so far this month.
In opening trade, the rupee had depreciated by 9 paise to 72.02 against the US dollar at the interbank foreign exchange ahead of RBI's board meet.
However, weakness in the US dollar against some currencies in the global market and a higher opening of the domestic equity markets limited the rupee fall, dealers said.
The BSE Sensex rose by 317.72 points, or 0.90 per cent, to close at a six-week high of 35,774.88. The broader NSE Nifty raced past the 10,750-mark to touch a high of 10,774.70 before settling at 10,763.40 points, showing a rise of 81.20 points, or 0.76 per cent.
Bond markets were steady Monday with the benchmark 10-year bond's yield settling little changed at 7.79.
Meanwhile, the international benchmark, Brent crude was trading higher by 0.72 per cent to USD 67.40 per barrel.
The dollar index, which measures the US currency's strength against major currencies, came under pressure as the pound rebounded on weakening prospects of a no-confidence vote in the UK.