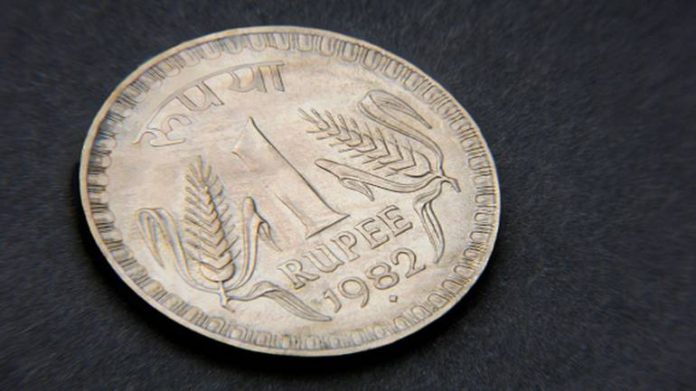 The rupee ended higher by 5 paise at 68.77 against the US currency today on the back of some stray dollar selling by exporters and banks.
A fall in global crude prices buoyed sentiment in the domestic currency market despite intensifying trade tensions between the US and China.
Traders also remained wary ahead of IIP and retail inflation data.
The Indian unit moved in a tight range between 68.75 and 68.89 for most part of the day. It had depreciated by 10 paise yesterday.
Global crude prices tumbled more than USD 2 per barrel following fresh threats from US President Donald Trump to slap tariffs on an extra USD 200 billion worth of Chinese imports.
The benchmark brent crude was trading at USD 77.37, down 1.89 per cent in early Asian trading.
The rupee opened virtually unchanged at 68.82 against the US dollar at the Interbank Foreign Exchange (forex) market.
Having posted a session high level of 68.75, the local unit finally settled at 68.77, showing a gain of 5 paise, or 0.07 per cent.
Meanwhile, the local bourses extended their winning run for the fourth day, led by technology shares, after IT major TCS delivered stellar Q1 earnings.
The domestic bond market also witnessed good buying interest. The 10-year benchmark yield moved down to 7.87 per cent from 7.90 per cent.
Globally, the US dollar edged higher against a currency basket as escalating US-China trade tensions prompted investors to seek safety in the world's reserve currency.
The dollar index, which measures the greenback's value against basket of six major currencies, was up at 93.90.
In other cross currency trade, the rupee fell back against the pound sterling to close at 91.11 per pound from 91.09 and also softened against the euro to finish at 80.56 as compared to 80.53 earlier.
The local unit, however remained firm against the Japanse yen to end at 61.83 per 100 yens from 61.84 yesterday.
Elsewhere, the euro tumbled from its three-week high against the US dollar following a sharp decline in the German ZEW Economic Sentiment, its lowest reading since August 2012.
The pound sterling remained under immense selling pressure against the greenback in the aftermath of disappointing UK industrial and manufacturing production data.
In the forward market today, premium for dollar turned lower due to mild receiving from exporters.
The benchmark six-month forward premium payable in November inched down to 115-117 paise from 115.50-117.50 paise and the far-forward May 2019 contract also softened to 264-266 paise from 264.50-266.50 paise yesterday.