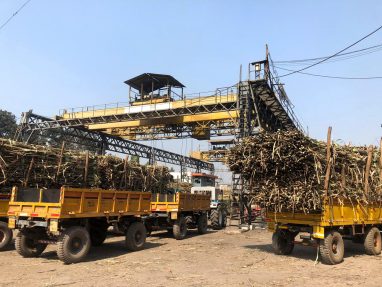 Don't Just Read, Now Listen Too. We Have Simplified The News World, Now Read And Hear Together. To Listen To This News Click On A Button Below To The Image.

Kolhapur: It seems sugar mills are scared by seizure threat after the government decided to confiscate sugar factories. According to a media report, as per Kolhapur-based regional office of the sugar commissioner, factories in Kolhapur and Sangli district have deposited more than Rs 2,000 crore in the accounts of farmers.
If media report to be believed, then mills have deposited as per Rs 2300 per tonne, which is Rs 600 less than Fair and Remunerative Price (FRP).
Mills have started depositing money after the pressure of Swabhimani Shetkari Sanghatana(SSS) and fearing warning by the government to confiscate sugar stocks of mills if they fail to pay the arrears.
According to a report published in TimesofIndia.com, 36 sugar factories in Kolhapur and Sangli district have deposited Rs 2,207 crore in the bank accounts of farmers. The factories in two districts still owe Rs 1,207 crore to the farmers. Total amount payable to farmers in Kolhapur and Sangli district is Rs 3,114 crore till January 31.
It has been almost three months of crushing commencement, and still many mills have yet not paid the first installment. The rule mandates that FRP amount should be deposited to the farmers' bank accounts within 14 days after the sugarcane harvest is handed over to the factory owners.
Mills are citing that they are unable to pay dues because they are in big trouble as they have been choked up with surplus stocks of sugar, low demand in the market, and no increment in the minimum selling price. Referring to financial distress, sugar mills are in no mood to fulfill the demand of full payment of FRP instead quell the anger of sugarcane growers by depositing the part payment.
According to reports, Sugarcane arrears have touched more than Rs 11,000 crore in Uttar Pradesh and Maharashtra, two major sugar producing states.
Download Our ChiniMandi News:  http://bit.ly/ChiniMandiApp