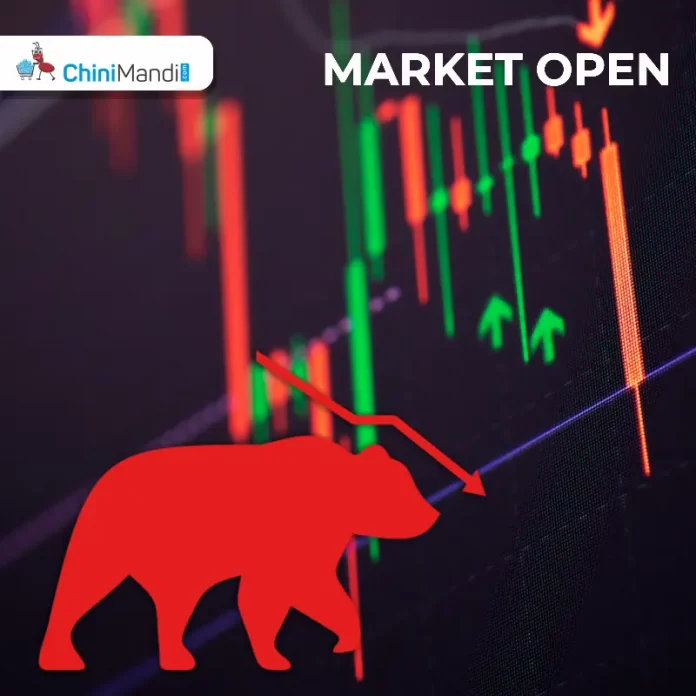 New Delhi, September 21: The selling spree continues in Indian stock markets for the third straight session as the US central bank while keeping its interest rate steady in the September meeting, hinted that it may again hike rates going ahead if need be, in its fight against inflation.
Rising global crude oil prices and subsequent strengthening of the US dollar also weighed on the financial markets.

The US benchmark index – Nasdaq – edged  1.5 per cent lower at the closing bell Wednesday. Benchmarks in India — Sensex and Nifty — were 0.5 per cent lower from their previous close at the time of filing this report.
At 10:19 am, Sensex was trading 534.94 points down at 66,265.91, whereas Nifty was trading 142.90 lower at 19,758.50.
On Monday and Wednesday, Indian stock indices closed in the red, with the benchmarks largely witnessing profit booking. Investors may have taken some money off the table after the indices hit their fresh highs last week.
Markets were closed Tuesday on the occasion of Ganesh Chaturthi.
The US central bank had hiked the interest rate on 12 occasions, necessitated in the fight against soaring inflation. Raising interest rates is a monetary policy instrument that typically helps suppress demand in the economy, thereby helping the inflation rate decline.
The US central bank reiterated its aim to achieve inflation at the rate of 2 percent over the longer run, against 3.7 per cent reported in August.
"The Committee is strongly committed to returning inflation to its 2 percent objective," US Federal Reserve Chair Jerome Powell said after the monetary policy meeting.
"…Federal Reserve is adopting a cautious approach to its monetary policy, prioritizing the reduction of the inflation rate to 2 per cent before considering any interest rate cuts. As a result, it is anticipated that risk assets, including the U.S. stock index, will remain under pressure. This, in turn, could have indirect repercussions on the Indian market," said Jayden Ong, Senior Market Analyst, APAC at Vantage. (ANI)