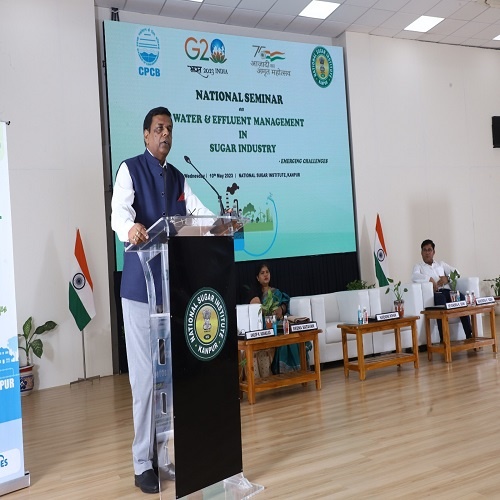 One day national seminar on "Water & Effluent Management in Sugar Industry- Emerging Challenges" jointly organized by National Sugar Institute and Central Pollution Control Board commenced today at NSI, Kanpur. It was attended by large no. of delegates from Haryana, Bihar, Uttar Pradesh, Uttarakhand, Madhya Pradesh, Maharashtra and Karnataka.
Mrs. Reena Satawan , Additional Director, Central Pollution Control Board, New Delhi in her address stressed upon adoption of best available technologies and standard operating procedures for reducing the quantity of discharges further from the prescribed limit of 200 liters/ton of cane with quality suitable for use as irrigation water or even better. The sugar industry is required to reduce fresh water consumption also to meet processing requirements by following the charter prepared with the help of National Sugar Institute, she said. Dr. Devendra Soni, Regional Director, Central Pollution Control Board, Lucknow while praising the efforts made by the sugar factories situated in the holy river Ganga basin, suggested adoption of technology of water treatment from other industries for implementation in sugar industry for further improvement.
Shri Narendra Mohan, Director, National Sugar Institute in his address suggested that instead of insisting on quantity of effluent discharge, the norms should stress on fresh water intake and quality of discharge, which may be made more stringent. Sugarcane based sugar industry is different from any other industry, where raw material i.e. sugarcane itself contains 70-72% water which is bound to come out during processing and hence even after meeting own processing requirements, which vary to a larger extent, surplus water is likely to be discharged which can be used for various purposes including irrigation, he said.
Shri Anoop Kumar Kanaujia, Assistant Professor of Sugar Engineering presented an overview of the water and effluent management in sugar factories and distilleries situated in Ganga basin. Due to combined efforts of institute and industry, during the last three years, while the fresh water consumption in sugar factories has come down by about 40%, the average effluent discharge has also came down from 180 to 150 litre per ton of cane i.e. by around 20% or so. In the molasses based distilleries also there is average reduction in fresh water consumption by 48 % and mostly they were found to be working on zero liquid discharge.
Shri Rajeev Mishra, M/s Saraswati Sugar Mills Ltd., Yamunanagar, Haryana presented details of an innovative model wherein their sugar complex comprising sugar factory & distillery is being operated without any use of fresh water and also with no effluent discharge. This may be a model for all to follow. Although it would require some additional capital and operational cost but looking to the issue of water scarcity, this needs to be followed, he said.
Presentations were also made by M/s Balrampur Chini Mills Ltd., M/s DCM Shriram Ltd. and M/s Dalmia Bharat Sugar Ltd. highlighting efforts made by them in reducing the fresh water consumption to almost zero. However, there are issues with the quantity of discharges due to various reasons as highlighted by Director, National Sugar Institute and also due to changed working model of the sugar factories where power generation and ethanol production is being preferred. Hence, the issue is to be seen in that perspective, they opined. Presentations were also made by technology providers M/s UY Trienviro Systems Pvt. Ltd. and M/s Paques Environmental Technology India Pvt. Ltd.
Shri Mahendra Yadav, Co-ordinator extended vote of thanks.