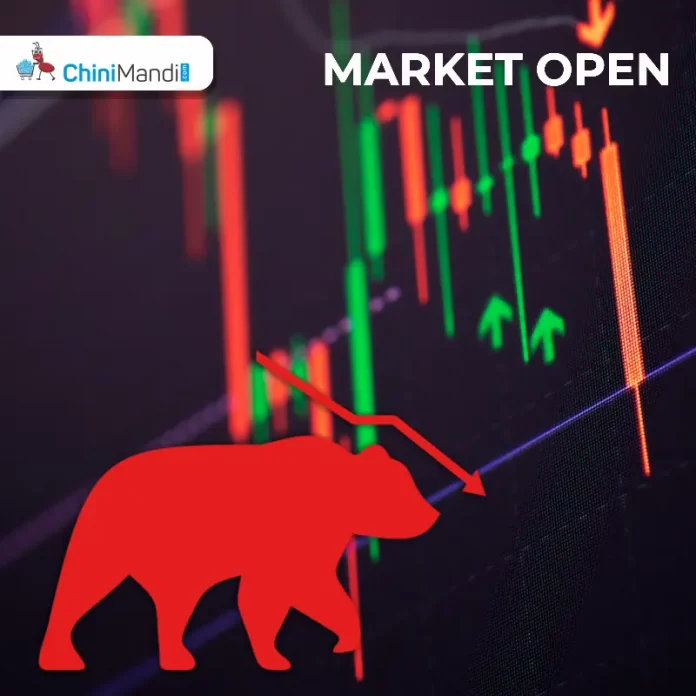 Mumbai (Maharashtra) [India], May 17 (ANI): Domestic equity indices opened flat on Wednesday, tracking weak global cues. The key indices in the US markets were all in the red and Asian stocks' benchmark indices showed mixed cues. The domestic investors were on a cautious note and experts are of the view that one may see extended profit-booking in the next few sessions, as investors would focus on global mood.
The BSE 30-share Sensex lost 115 to 61,817.61 and NSE's Nifty 50 dropped 112.35 to 18,286.50.
In sectoral indices, Bank Nifty rose 37.95 points or 0.09 per cent to 43,941.65 and Nifty IT fell 143.55 points or 0.51 per cent to 28,072.45.
At 10:24 am, Sensex was trading 157.29 points lower at 61,775.18, whereas Nifty was trading 37.80 points down at 18,248.70.
In Asian markets, Hong Kong's Hang Seng went down 59 points, Japan's Nikkei surged 196 points, China's Shanghai dropped 4 points and Thailand Set surged 2 points.
In the American markets, Dow Jones went down 336 points, Nasdaq lost 22 points, NYSE dropped 193 points and S and P 500 lost 26 points.
In European markets, BEL, CAC and Amsterdam Exchange were trading in the positive territory.
Siddhartha Khemka, Head – Retail Research, Motilal Oswal Financial Services, "After witnessing, a smart move in the last couple of days, the market is witnessing profit booking, especially in heavyweights from higher levels. Global cues have remained mixed as US debt ceiling negotiations are ongoing, keeping investors cautious. On the domestic front, a healthy result season and consistent FII buying have been providing support to the market. The overall trend remains positive, however, some consolidation may not be ruled out given the sharp-up move in the last few weeks."
On Tuesday, key benchmark index BSE Sensex declined 413.24 points to settle at 61,932.47 even after beginning the trade on a firm note. During the day, it fell 498.3 points to 61,847.41. The NSE Nifty went lower by 112.35 points or 0.61 per cent to end at 18,286.50.
Ajit Mishra, VP – Technical Research, Religare Broking, "The profit taking was witnessed across the board wherein auto, financials and banking were among the top losers. Meanwhile, the broader indices outperformed the benchmark and closed almost unchanged."
Mishra said, "Nifty may witness a further dip however the downside seems capped, thanks to prevailing buoyancy in key sectors. We thus recommend utilising this phase to accumulate quality stocks till Nifty upholds 18,050+."
Pravesh Gour, Senior Technical Analyst, Swastika Investmart, "The market closes at the day's low after falling in the previous hour, with Nifty below 18,300. The midcap index closes higher but is down from its 52-week high of 33,045. The Sensex falls 413 points to 61,932 and the Nifty 126 points to 18,287. Nifty Bank slips 168 points to 43,904, while the Midcap Index gains 83 points to 32,793."
Bank of Baroda closed 2 per cent higher after quarterly profit rises 168 per cent to Rs 4,775 crore on Tuesday. On Wednesday morning, shares of Bank of Baroda were trading 1.45 per cent up at Rs 189.15 apiece on BSE.
Oil futures steadied on Tuesday as support from a higher global demand forecast from the International Energy Agency (IEA) was countered by weaker-than-expected Chinese economic data. (ANI)
Track Live Share Market Chart and live Forex rates chart at ChiniMandi.