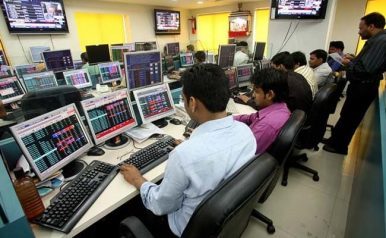 Mumbai, Aug 31 (PTI) The BSE Sensex fell over 45 points today, extending third session of losses, as the September series derivatives contracts started on a somewhat weak note amid the rupee hitting the 71-mark for the first time ever.
However, the NSE Nifty edged slightly higher by 3.70 points.

Muted global sentiment after a report that US President Donald Trump was preparing to impose more tariffs on China mainly hurt trading activities here.
The rupee crashed to a record low of 71 per dollar intra-day, tracking weakness in almost all other Asian peers following the latest round of US-China trade tensions and robust month-end demand for the American currency from oil importers.
A general caution prevailed in the market today with all eyes on GDP data for the June quarter as the Sensex closed in the negative terrain for the third straight day.
The quarterly GDP growth numbers will be released after market hours today.
On a weekly basis, both key indices Sensex and Nifty recorded their sixth straight week of gains by rising 393.27 points or 1.02 per cent, and 123.40 points or 1.07 per cent, respectively.
Investor sentiment was further hit as the rupee continued its slide to hit its new life-time low and breached the 71-mark (intra-day) first time ever tracking weakness in most Asian currencies against the US dollar. Besides, global crude oil surging to USD 78 a barrel also put pressure.
The Sensex moved in the range of 38,838.45 and 38,562.21 before settling down by 45.03 points, or 0.12 per cent, at 38,645.07.
The gauge had lost 206.53 points in the past two sessions.
The broader NSE Nifty managed to end with a small gain of 3.70 points, or 0.03 per cent, at 11,680.50. Intra-day, it shuttled between 11,727.65 and 11,640.10.
Meanwhile, domestic institutional investors (DIIs) sold shares worth a net Rs 1,598.67 crore, while foreign portfolio investors (FPIs) bought equities worth Rs 958.01 crore yesterday, as per provisional data.