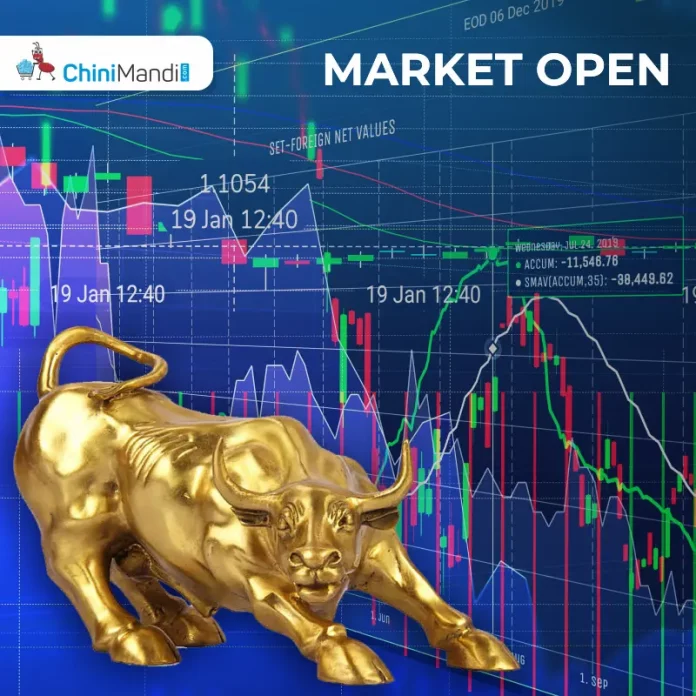 Mumbai (Maharashtra), [India], May 22 (ANI): Key indices of the domestic equities market opened higher on Monday morning as buying in IT stocks took place, defying weak global cues prevailing across the world.
BSE 30-share Sensex went up 156 points to 61,909.79 and NSE Nifty 50 surged 69 points to 18,272.60 in morning trade on Monday.
At 10:25 am, Sensex was trading 160.27 points higher at 61,889.95, whereas Nifty was trading 71.40 points up at 18,274.80.
In the Asian markets, Hong Kong's Hang Seng surged 237 points, Japan's Nikkei dropped 5 points, China's Shanghai surged 16 points, Philippines Stock Exchange was trading in the negative territory and Thailand Set was trading in the positive territory.
In the US markets, Nasdaq lost 30 points, Dow Jones dropped 109 points, NYSE declined 21 points and S&P/BMV lost 967 points.
According to CNN Business, experts seem to agree that the US Federal Reserve is unlikely to raise rates again in June. "The absence of any such preparation [for a raise] is the signal and gives us additional confidence that the Fed is not going to hike in June absent a very big surprise in the remaining data, though we should expect a hawkish pause," Evercore ISI strategists said in a May 19 note.
In the European market, Amsterdam, Deustche, CAC and BEL were trading in the positive territory, FTSE gained 14 points while IBEX 35 surged 38 points.
The Reserve Bank of India on Friday announced that it has decided to withdraw the Rs 2,000 denomination banknotes from circulation but they will continue to remain legal tender.
According to the provisional data available on the NSE, foreign institutional investors (FII) sold shares worth Rs 113.46 crore, while domestic institutional investors (DII) were net buyers and purchased shares worth a 1,071.35 crore on Friday. India's foreign exchange reserves continue to rise and are edging towards USD 600 billion, hitting a nearly one-year high.
In the week that ended on May 12 for which data is available, the reserves rose by USD 3.553 billion to USD 599.529 billion.
The Indian rupee opened 13 paise lower at 82.79 against the US dollar as compared to Friday's close of 82.66 per dollar. (ANI)
Track Live Share Market Chart and live Forex rates chart at ChiniMandi.