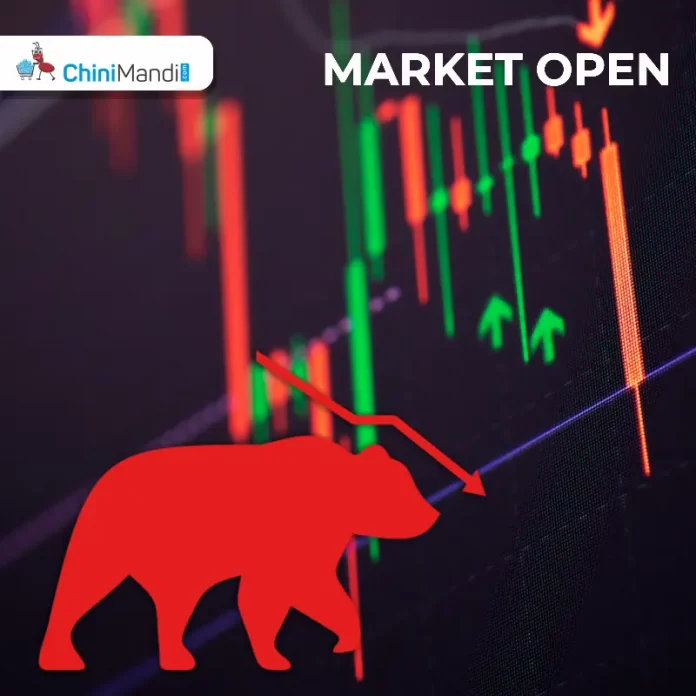 Mumbai (Maharashtra) [India], March 20 (ANI): Indian equity markets opened with losses on Monday, picking up weak global cues spilling over from last week.
In the latest development happening in Europe, UBS has agreed to buy Credit Suisse for more than USD 3 billion while The US Federal Reserve and several other major central banks announced a coordinated effort on Sunday night to boost the flow of US dollars through the global financial system with the aim of keeping credit flowing to households and businesses. Investors keeping an eye on these will eventually be positive developments for the global markets.
BSE Sensex lost 376 points to 57,613.61 while NSE Nifty dropped 129 points to 16,970.95 during the morning trade on Monday. The top gainers on Nifty 50 were Dr Reddy, Divis Lab, Hindustan Unilever Ltd (HUL), Titan and BPCL while Adani Enterprises, Hindalco, Infosys, TCS and IndusInd Bank were some of the laggards.
At 10:20 am, Sensex was trading 680.63 points lower at 57,299.15, whereas nifty was trading 206.20 points lower at 16,893.85.
In Asian markets, Hong Kong's Hang Seng lost 352 points, Japan's Nikkei declined 212 points, China's Shanghai gained 10 points while Thailand's Thailand SET was trading in the positive territory and S&P ASX lost 50 points on Monday morning.
In US markets, Dow Jones lost 384 points, Nasdaq Composite dropped 86 points and SandP 500 declined 43 points on Friday closing.
In European markets, BEL and CAC were trading in the positive, Deutsche Borse lost 198 points and FTSE 100 dropped 74 points and Madrid SE declined 16 points as Asian markets opened on Monday.
On Friday, the Sensex and Nifty closed 0.6-0.7 per cent higher. The BSE index ended 355 points up at 57,989.90 but failed to recover its 58k level while the NSE index surged 114 points to 17,100.05, regaining its 17k position.
India's foreign exchange reserves declined by about USD 2.4 billion to USD 560.003 billion in the week ending on March 10, according to the Reserve Bank of India's latest data which came out on Friday.
During the prior week that ended on March 3, India's foreign exchange reserves rose for the first time in five weeks to USD 562.40 billion, an increase of USD 1.45 billion, data showed. Gold reserves declined by USD 110 million to USD 41.923 billion.
For fresh cues, market participants will keenly watch out for the US Federal Reserve monetary policy outcome and forward-looking guidance. The next US monetary policy meeting is scheduled for March 21-22.
Speaking on foreign portfolio investments, VK Vijayakumar, Chief Investment Strategist at Geojit Financial Services, said, "FPIs have invested a total amount of Rs 11,344 crore till March 18. This includes the bulk investment of Rs 15,446 crore by GQG in Adani stocks. So, net of the bulk deals the FPI (foreign portfolio investment) is negative. For 2023, so far, FPIs have sold equity for Rs 23,283 crore (NSDL). FPIs have been consistent buyers only in capital goods."
He added, "In financial services, they have been alternating between buying and selling in different fortnights. Since risk-off is the dominant market mood now, following the bank failures in the US and fears of contagion, FPIs are unlikely to turn buyers in the near-term."
Another expert, Ajit Mishra, Vice-president for Technical Research, Religare Broking, said, "In absence of any major domestic event, the focus would be on the upcoming FOMC (Federal Open Market Committee) meet scheduled on March 21-22. Besides, movement in crude and trend of foreign flows will also be in focus for cues."
The Religare Broking VP also said, "Markets may take a breather initially, however, the upside also seems capped. Nifty could face hurdles around the 17,250-17,400 zone while the 16,600-16,800 zone would provide the needed cushion, in case the situation deteriorates further. Since we're seeing a mixed trend across sectors, traders should continue with a stock-specific approach, with a focus on overnight risk management." (ANI)
Track Live Share Market Chart and live Forex rates chart at ChiniMandi.