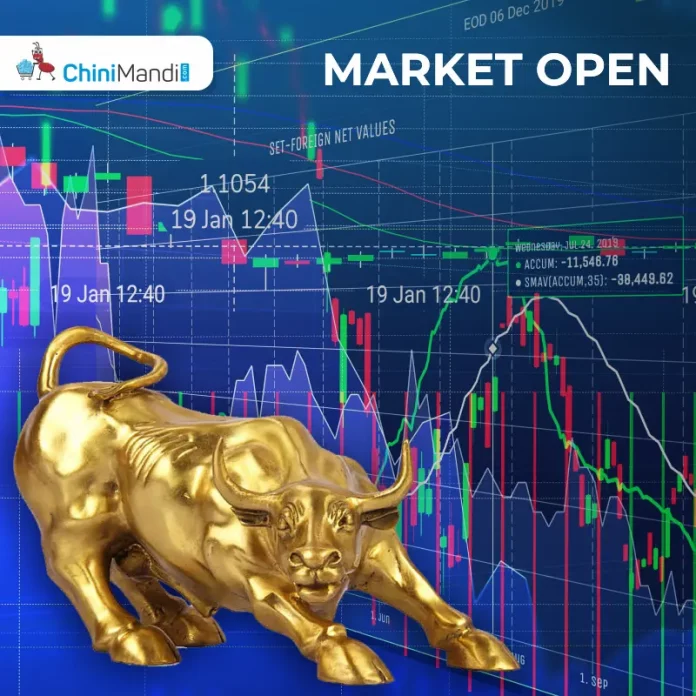 New Delhi [India], May 15 (ANI): The key benchmarks of the domestic equity market made gains on Monday morning, tracking strong global cues. Better-than-expected corporate results and the easing of retail inflation to an 18-month low are having a positive impact on the stocks at the start of the week.
BSE Sensex went up 153 points to 62,180.87 while NSE Nifty gained 34 points to 18,348.80 during the morning trade on Monday. Some of the gainers were CoffeeDay, BCG, Intellect and Great Eastern Shipping. Some of the laggards on BSE are Data Patterns, Dish TV, Kirloskar and Sonata Software on BSE during the morning trade.
At 10:09 am, Sensex was trading 257.90 points higher at 62,285.80, whereas Nifty was trading 71.70 points up at 18,386.50.
In the Asian markets, Hong Kong's Hang Seng surged 69 points, Japan's Nikkei gained 112 points, China's Shanghai went up 10 points and Philippine Stock went down 4 points, on Monday.
In the US markets, Dow Jones went down 8.89 points, Nasdaq lost 43 points and S&P 500 dropped 6 points.
In European markets, BEL, CAC and Amsterdam Exchange were trading in the positive territory, Deutsche Borse surged 79 points, IBEX 35 went up 51 points and Madrid gained 5 points when the Asian markets opened on Monday.
On Friday, the S&P BSE Sensex gained 123.38 points or 0.20 per cent to 62,027.90. The Nifty 50 index added 17.80 points or 0.1 per cent to 18,314.80.
On Friday evening, retail inflation in India data came out and it showed that it eased further in April to 4.7 per cent as against 5.7 per cent the previous month. The sub-index for cereals and products and eggs declined in April, data released by the Ministry of Statistics and Programme Implementation on Friday revealed. The inflation in rural and urban was 4.68 per cent and 4.85 per cent, respectively.
The Reserve Bank of India (RBI) said on Friday evening that India's foreign exchange reserves rose by USD 7.196 billion to USD 595.976 billion in the week that ended on May 5. Prior to the May 5 ended week, the reserve rose by USD 4.532 billion to USD 588.780 billion.
Shares of the direct-to-home firm Dish TV were trading 2.48 per cent to Rs 1,720.62 apiece on Monday morning. Dish TV India Ltd has reported a consolidated net loss of Rs 1,720.62 crore for the fourth quarter that ended on March 31, 2023, mainly on account of impairments and deferred tax liability. The company had reported a net loss of Rs 2,031.99 crore in the January-March quarter a year ago, Dish TV said in a BSE filing. (ANI)
Track Live Share Market Chart and live Forex rates chart at ChiniMandi.