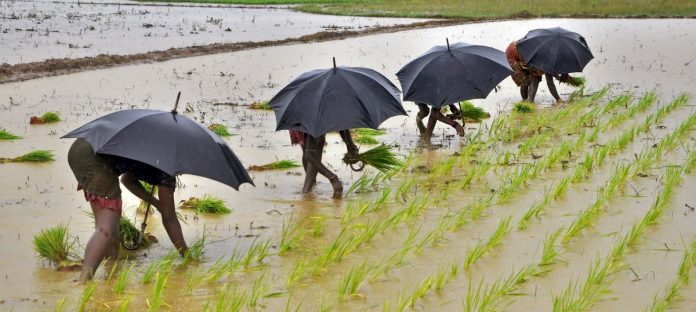 Image Credits: Scroll.in
NEW DELHI: Bringing good news for India's farm sector and overall economy, the country's private weather forecast agency Skymet Weather on Wednesday predicted 'normal' monsoon this year and said that there was 55 per cent possibility of normal seasonal rainfall during June-September period.

In its prediction, the agency completely ruled out the possibility of drought year and rather spoke about 20 per cent chance of 'above normal' rainfall.
It said, "The Monsoon 2018 is likely to remain normal at 100 per cent (with an error margin of +/-5 per cent) of the long period average (LPA) of 887 mm for the four-month period from June to September".
Monsoon is considered as 'normal' if the average rainfall is between 96-104 per cent of the LPA. Anything less than 90 per cent of the LPA is termed as a "deficient" monsoon and 90-96 per cent of the LPA is considered as "below normal".
"Above normal" monsoon is between 104-110 per cent of the LPA and anything beyond 110 per cent of the LPA is considered as "excess". The LPA of the seasonal rainfall over the country as a whole for the period 1951-2000 is 89 cm.
The Skymet Weather's forecast comes over a week ahead of the country's national weather forecaster's – India Meteorological Department (IMD) – plan to make its formal Monsoon prediction for the year.
Though the IMD's prediction is still awaited, its recent Bulletin on El Nino Souther Oscillation (ENSO) had ruled out possibility of El Nino at least till August and has given reasons for the weather agency to be hopeful. The El Nino phenomenon — an abnormal warming of the ocean surface in central and eastern equatorial Pacific — is usually associated with weak monsoons.
Officials in the agency had then told the TOI that observations had till then not thrown up any negative factor.
The IMD's seasonal outlook for the temperature during March – May period had also noted a moderate La Nina – episodes representing periods of below-average sea surface temperatures across the east-central equatorial pacific. La Nina effect is opposite to El Nino and is related to normal or above normal rainfall.
It all had raised good hope for a normal monsoon this year – a positive signal for the farm sector amid several reports of distress among farmers due to multiple reasons.
The good rainfall will increase farm output that will, in turn, increase rural demand and thus ease pressure on overall economy.
Highlights of the skymet weather's prediction:
• 5 per cent chance of excess (seasonal rainfall that is more than 110 per cent of LPA)
• 20 per cent chance of above normal (seasonal rainfall that is between 105 to 110 per cent of LPA)
• 55 per cent chance of normal (seasonal rainfall that is between 96 to 104 per cent of LPA)
• 20 per cent chance of below normal (seasonal rainfall that is between 90 to 95 per cent of LPA)
• 0 per cent chance of drought (seasonal rainfall that is less than 90 per cent of LPA)
On a monthly scale, the precipitation foreshadow is as follows:
June – 111 per cent of LPA (LPA for June = 164 mm)
• 30 per cent chance of normal
• 60 per cent chance of above normal
• 10 per cent chance of below normal
July – 97 per cent of LPA (LPA for July= 289 mm)
• 55 per cent chance of normal
• 15 per cent chance of above normal
• 30 per cent chance of below normal
August – 96 per cent of LPA (LPA for August = 261 mm)
• 55 per cent chance of normal
• 10 per cent chance of above normal
• 35 per cent chance of below normal