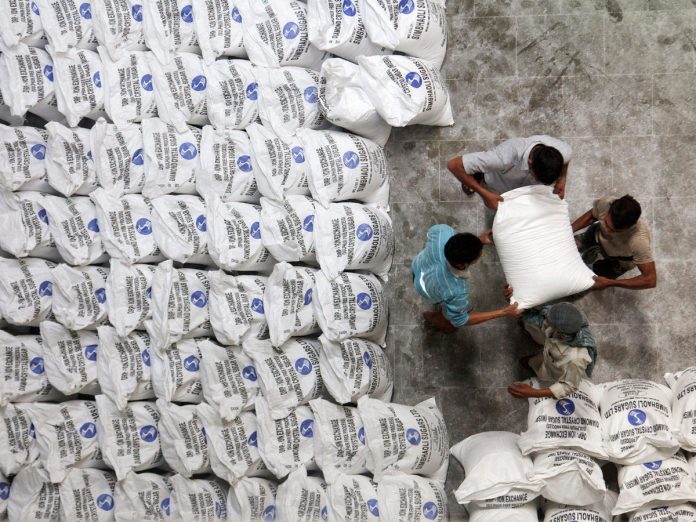 Image Credits: Bloomberg L.P.
NEW YORK/LONDON, March 7 (Reuters) – Raw sugar futures on ICE sank 5 percent to an 8-1/2-month low on Wednesday, on an estimate for record production in No. 2 grower India, while London cocoa extended gains to a one-year high and reached the most technically overbought levels in a decade.

SUGAR
* May raw sugar settled down 0.66 cent, or 4.9 percent, at 12.79 cents per lb, after falling to the lowest since June at 12.76 cents.
* This was the spot contract's biggest one-day tumble since April.
* The contract opened and remained below the prior session low to form a gap in the chart, which has the potential to send technically bearish signals, traders said.
* "Sugar is down on news that ISMA (Indian Sugar Mills Association) raised their forecast significantly for Indian production," said James Cassidy, global head of Sugar Derivatives for Societe Generale in New York.
* The ISMA raised its 2017/18 India sugar production forecast to a record 29.5 million tonnes, up nearly 13 percent from a previous estimate.
* "This report is bearish because many traders were expecting ISMA to raise their production estimate to only 28.5 million or so," Cassidy said.
* May white sugar settled down $12.20, or 3.3 percent, at $354.10 per tonne.
COCOA
* May London cocoa closed flat at 1,727 pounds per tonne after rising to 1,741 pounds, the highest for the second position since March 2017.
* The second-position contract held near 87 on the Relative Strength Index, matching Tuesday and the most technically overbought level since 2008.
* The March premium over May LCCH8-K8 matched the prior session's contract high of 24 pounds, while the May discount to July LCCK8-N8 narrowed to 7 pounds, matching the prior session's highest level since November 2016.
* Expectations for rising demand, and a lowering of forecasts for the crop in top grower Ivory Coast as well as the global surplus, helped support prices, dealers said.
* May New York cocoa settled up $2, or 0.1 percent, at $2,443 per tonne, hovering below Tuesday's 16-month high of $2,471.
* ICE Futures U.S. raised the initial cocoa margins for specs by 30.4 percent to $1,500 per contract from $1,150.
COFFEE
* Robusta coffee futures continued to lack a clear overall trend with May closing up $8, or 0.5 percent, at $1,785 per tonne.
* May arabica coffee settled down 0.5 cent, or 0.4 percent, at $1.2075 per lb. (Reporting by Marcy Nicholson in New York and Nigel Hunt in London Editing by David Goodman, Adrian Croft and Susan Thomas)