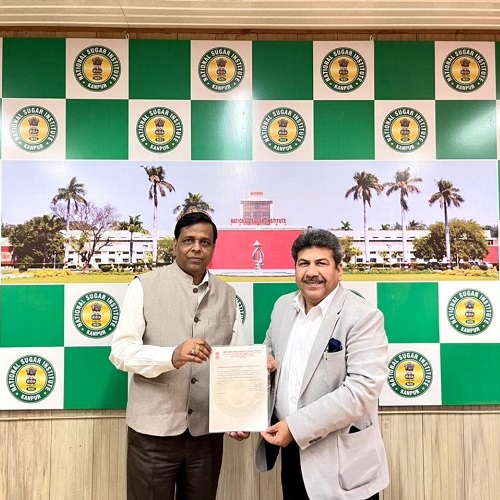 Kanpur: Fellowship of National Sugar Institute, Kanpur in Sugar technology was conferred to Shri Sanjay Awasthi, President, The Sugar Technologists Association of India. Shri Sanjay Awasthi has carried research on the topic "Biogas from Filter Cake/Press Mud from Sugar Industry" under the supervision of Prof. Narendra Mohan, Director, National Sugar Institute, Kanpur during the last three years.
In this connection, Prof. Narendra Mohan informed that repeated trials were made in laboratory and pilot plant scale so as to optimize the process parameters and to assess the quantum of biogas production per unit filter cake/ press mud.

Elaborating it further, Shri Sanjay Awasthi informed that filter cake/ press mud not only from the cane-sugar factories, but also from overseas beet-sugar factories was tested for biogas generation efficiency. It is possible to produce about 1 kg biogas from 25-30 kgs of filter cake/ press mud and thus, looking to the price of filter cake/press mud (Rs.250/- per metric ton), it can be a game-changer for the sugar industry. The slurry obtained from the reactor after production of the biogas can be used as a bio-manure, he added.
Prof. Narendra Mohan, Director, NSI informed that the sugar factories in Maharashtra, Tamilnadu, Karnataka and Uttar Pradesh have taken up initiative for setting up such plants, and with the incentives being provided by the Government of India, it is expected that by 2023-24, the country will have about 500 such biogas plants producing 15 million metric tonnes of biogas.