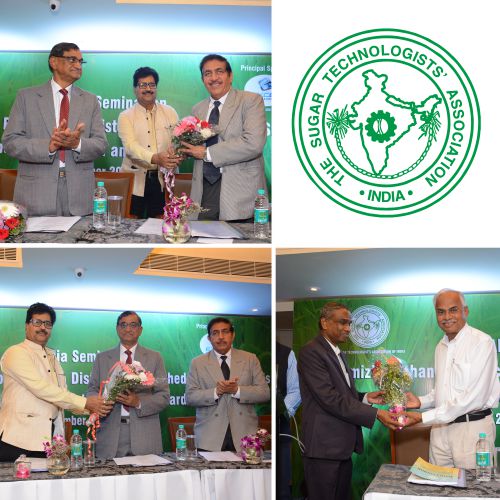 The Sugar Technologists Association of India successfully organized an All India one day seminar on "Optimizing Ethanol Production in Distilleries attached with Sugar Mills – Experiences Gained and Way Forward" on 27th Sept. 2019, Hotel Vivanta, Panaji, Goa.
The seminar was inaugurated by Mr. Shivajirao Deshmukh, Director General, Vasantdada Sugar Institute, and presided over by Mr. Prakash Naiknavare, Managing Director, National Federation of Cooperative Sugar Factories Ltd. and Mr. M. Ramalingam, Managing Director, Dharni Sugars & Chemicals Ltd as the Guest of Honour.

Speaking to ChiniMandi.com, Mr. Sanjay Awasthi, President, STAI said that "The Government of India's industry friendly Bio-Fuel Policy is offering attractive prices to sugar mills manufacturing ethanol. It is paying dividend as in past one year a number of sugar mills are either expanding their capacities or are setting up new ethanol plants. The country is also on the threshold of achieving 10% ethanol blending probably this year."
"Going forward it is imperative for the industry to ponder over issues like integrating their distilleries with multi-feed stocks rather than depending on molasses alone to run their distilleries for atleast 300 days a year for a sustainable and viable sugar industry". He added.
More than 100 delegates from across the country participated in the day long and deliberated on following 10 technical papers:
1. Monitoring and Certification of Ethanol Production from Sugarcane Juice of Bh Molasses by V.P. Sidanale, R V Dani
2. Achieving Energy Efficiency and Zero Effluent Discharge in Distilleries through Modern "E-Max Technology" by Sanjay Desai & Sandeep Chichbankar
3. Potential and Challenges for new Bio-Fuel Policy Implementation in Distilleries attached with Sugar Mills by Sanjay Awasthi, Anurag Goyal, Deepti Mishra
4. Optimizing Ethanol Production from Sugarcane Juice/Syrup,, BH Molasses and Sugar by Sanjay V Patil
5. Selection of Right Feedstock Mix and Value Maximization by Praj Industries
6. FAQ- Regarding Production of Ethanol under EBP from B Heavy Molasses by R.S. Shewale, R N Yadav, D.M. Raskar
7. B Molasses as Feedstock-Total Solution for Preservation & Processing towards achieving the Productivity and Efficiency for Sugar Diversion by Dilip S Jain, Kapil Khandelwal, Dharmender Pathak
8. Balancing Ethanol Production with Sugar to improve sustainability of Sugar Industry with reduced Pollution by V M Kulkarni
9. Degasification, Evaporation and Condensate Polishing systems for Bio-Methanated Spent Wash: A Case Study at Harinagar Sugar Mills Ltd.
10. Strategies on Optimization of Ethanol Production with Sugarcane and Multi-Feed Stocks by K Mohankumar and S Karthik Kumar
To Listen to this News click on the button below the image.