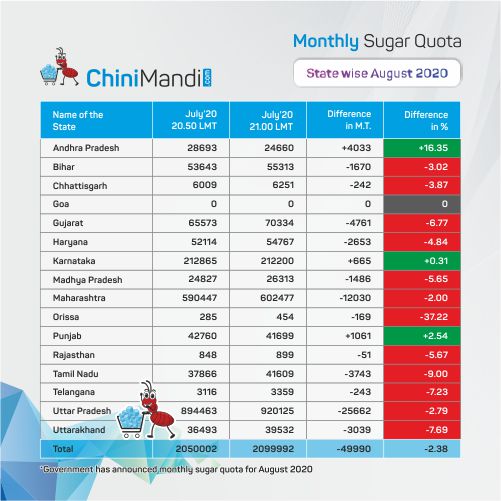 New Delhi, 30th July 2020: In a notification issued on the 30th July 2020, the food ministry has allocated quota of 20.50 LMT monthly for the month of July to each of 547mills in India.
The Government has announced 20.50 LMT Monthly Sugar Quota for Sale in August 2020  which is 50,000 MT lesser quota compared to the last month's sugar quota of July 2020 which stood at 21 LMT.
The statewise quota for August 2020 is as follows: Andhra Pradesh 28693 MT, Bihar 53643 MT, Chhattisgarh 6009 MT, Goa 0 MT, Gujarat 65573 MT, Haryana 52114 MT, Karnataka 212865 MT, Madhya Pradesh 24827 MT, Maharashtra 590447 MT, Orissa 285 MT, Punjab 42760 MT, Rajasthan 848 MT, Tamil Nadu 37866 MT, Telangana 3116 MT, Uttar Pradesh 894463 MT, Uttarakhand 36493 MT.
 To Listen Statewise sugar quota for August 2020 News click on the play button.