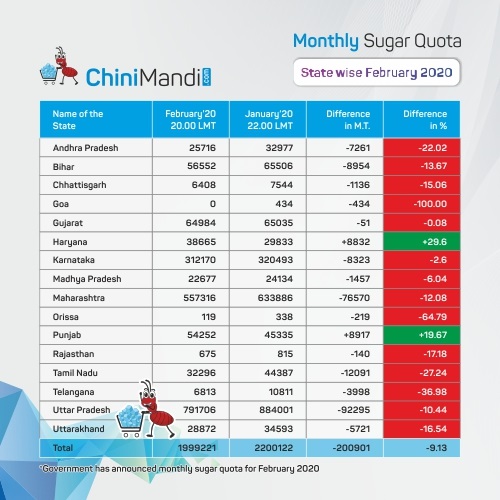 ChiniMandi Delhi, 31st January 2020: In a notification issued on the 31st day of January 2020, the food ministry has allocated 20 LMT monthly sugar quota for February to each of 543 mills in India.
The Government has announced 20 LMT Monthly Sugar Quota for Sale in February 2020 which is -9.13% lower quota compared to the last month's Sugar quota of January 2020 which stood at 22 LMT. The statewise quota for February 2020 is as follows: Andhra Pradesh 25716 MT, Bihar 56552 MT, Chhattisgarh 6408 MT, Goa 0 MT, Gujarat 64984 MT, Haryana 38665 MT, Karnataka 312170 MT, Madhya Pradesh 22677 MT, Maharashtra 557316 MT, Orissa 119 MT, Punjab 54252 MT, Rajasthan 675 MT, Tamil Nadu 32296 MT, Telangana 6813 MT, Uttar Pradesh 791706 MT, Uttarakhand 28872 MT.

 To Listen to this News click on the play button.