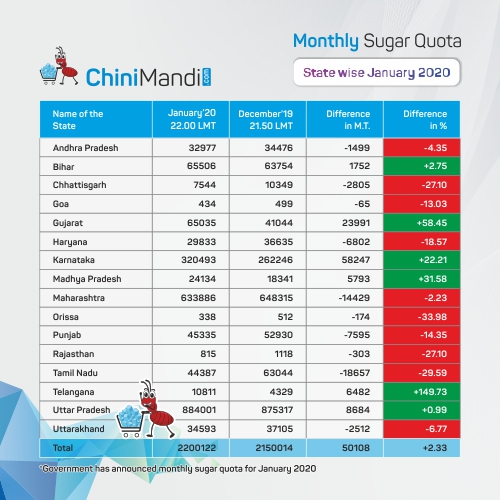 ChiniMandi Delhi, 31st December 2019: ChiniMandi Delhi, 31st December 2019: In a notification issued on the 31st day of December 2019, the food ministry has allocated 22 LMT monthly sugar quota for January to each of 537 mills in India along with added incentivized quota to those mills who have completed their export targets under MIEQ Quota.
The Government has announced 22 LMT Monthly Sugar Quota for Sale in January 2020 which is 2.33% higher quota compared to the last month's Sugar quota of December 2019 which stood at 21.5 LMT. The statewise quota for January 2020 is as follows: Andhra Pradesh 32977 MT, Bihar 65506 MT, Chhattisgarh 7544 MT, Goa 434 MT, Gujarat 65035 MT, Haryana 29833 MT, Karnataka 320493 MT, Madhya Pradesh 24134 MT, Maharashtra 633886 MT, Orissa 338 MT, Punjab 45335 MT, Rajasthan 815 MT, Tamil Nadu 44387 MT, Telangana 10811 MT, Uttar Pradesh 884001 MT, Uttarakhand 34593 MT.

To Listen to this News click on the play button.
Below is the Statewise January monthly sugar quota comparison chart