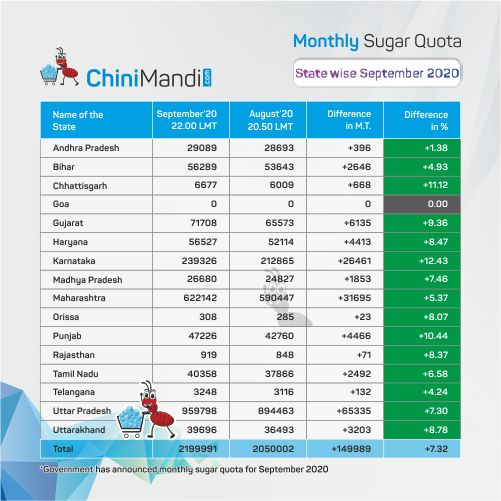 New Delhi, 31st August 2020: In a notification issued on the 31st August 2020, the food ministry has allocated quota of 22 LMT monthly for the month of September to each of 547mills in India.
The Government has announced 22 LMT Monthly Sugar Quota for Sale in September 2020 which is 150,000 MT higher quota compared to the last month's sugar quota of August 2020 which stood at 20.50 LMT.
The statewise quota for August 2020 is as follows: Andhra Pradesh 29089 MT, Bihar 56289 MT, Chhattisgarh 6677 MT, Goa 0 MT, Gujarat 71708 MT, Haryana 56527 MT, Karnataka 239326 MT, Madhya Pradesh 26680 MT, Maharashtra 622142 MT, Orissa 308 MT, Punjab 47226 MT, Rajasthan 919 MT, Tamil Nadu 40358 MT, Telangana 3248 MT, Uttar Pradesh 959798 MT, Uttarakhand 39696 MT.
To Listen to this News click on the play button.