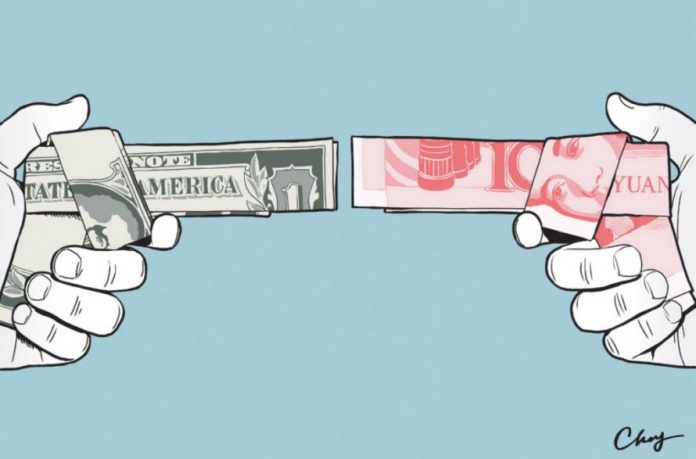 Stock markets rose on both sides of the Atlantic today as investors entertained a glimmer of hope that negotiations may yet soften the blow of an unfolding trade war between Washington and the EU, dealers said.
European car stocks surged after the US ambassador in Berlin, Richard Grenell, told bosses of Germany's biggest car firms that Washington was calling on the EU to bring tariffs to zero on car imports — in exchange for equal treatment by the US.
European auto sector concerns were "easing a bit to boost the markets in Europe", observed analysts at Charles Schwab, after German Chancellor Angela Merkel responded by saying she would back talks with trading partners on lowering automobile tariffs.
In Milan, Fiat Chrysler stock gained more than six per cent.
German auto shares also surged across the board, with BMW, Daimler and Volkswagen all four percent or more higher on the day.
This, combined with strong German economic data, made the Dax index in Frankfurt Europe's star performer.
"One point of hope has been German factory orders, which have moved higher and posted their strongest growth since February," said Chris Beauchamp, chief market analyst at IG trading group, saying the figures also helped boost the euro.
The Paris and London stock markets also rose.
Wall Street opened higher as traders returned to their desks after yesterday's national holiday.
But analysts were quick to point out that the bigger trade war — between the US and China — is still happening as the US is set to begin enforcing tariffs on more than USD 34 billion in Chinese imports from tomorrow.
Beijing has vowed to respond with its own tariffs immediately, arguing it has "no choice but to fight" and accusing Washington of "opening fire on the whole world" with the trade restrictions.
But Washington has threatened to introduce even steeper US counter-measures, potentially covering another USD 400 billion in Chinese goods, if Beijing retaliates.
Greg McKenna, chief market strategist at AxiTrader, said "there has been a subtle but distinct shift in the number of voices who are now saying this could all end up in a big global mess with a huge hit to global growth".
Traders may have underestimated the resolve of the US administration to pursue President Donald Trump's protectionist agenda, he said.
In Europe meanwhile, official data showed German industrial orders bounced back in May after a string of setbacks, suggesting Europe's largest economy may not face the sharp slowdown some observers feared.
Today's positive data was "more evidence that the economy could rebound during the second half of the year", ING Diba bank economist Carsten Brzeski commented.
Elsewhere, oil prices traded lower after Trump fired a warning shot at OPEC.
"The OPEC Monopoly must remember that gas prices are up & they are doing little to help," Trump tweeted, adding: "REDUCE PRICING NOW!" Oil prices have been on an upward trend as Saudi Arabia struggles to offset supply disruptions around the world including in OPEC and non-cartel producing countries.
The prospects of Iranian oil exports being curtailed owing to US calls for countries to stop buying from them — and Tehran's belligerent threats to choke Middle East crude supply routes — have put upward pressure on the market.
"[Trump] can tweet as much as he wants but until the oil flows successfully, or there is a real belief it will, prices will remain elevated," McKenna said.