Business Meet on 7th October, 2022 at 'UK27 THE FERN', BELAGAVI for South Region.
After successful organization of the Business meet held at Lucknow on July 15, 2022, Cogen India is now organizing a Business meet on the similar theme 'Sugar Factories: The Future Innovative Energy Hub' on 7th October, 2022 at 'UK27 THE FERN', BELAGAVI for South Region.
In the near future, the bio-energy concept of complete utilization of sugarcane biomass, molasses and press mud will become pivotal for a sustainable sugarcane industry. Production of bio-energy will be one of the most proficient ways to achieve sustainable development. The sugar mills would need to transform from 'Producers of Sugar into Bio- Energy Hubs' marking a change in the philosophy. The challenges, opportunities and methods to pursue this transformation are enormous.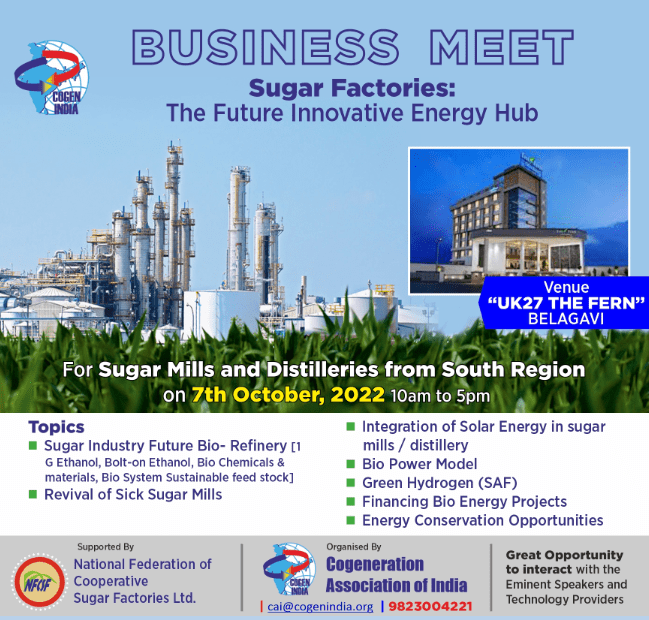 The main objective of this Business Meet is to create awareness about the latest bio energy technologies as there is a need for developing flexi sugar factories producing sugar and ethanol as per relative economics and market demand.
Various topics such as Sugar Industry Future Bio- Refinery, 1 G Ethanol, Bolt-on Ethanol, Bio Chemicals & materials, Sustainable feedstock, Biogas to Power, Energy Conservation Opportunities, Integration of Solar Energy in Sugar mills / Distillery, Revival of Sick Sugar Mills etc shall be addressed during the Meet.
The eminent speakers and technology providers from the Industry shall share their views through this platform. We request you to take benefit of this opportunity and register at the earliest.
For further information: Please contact cai@cogenindia.org / 9823004221