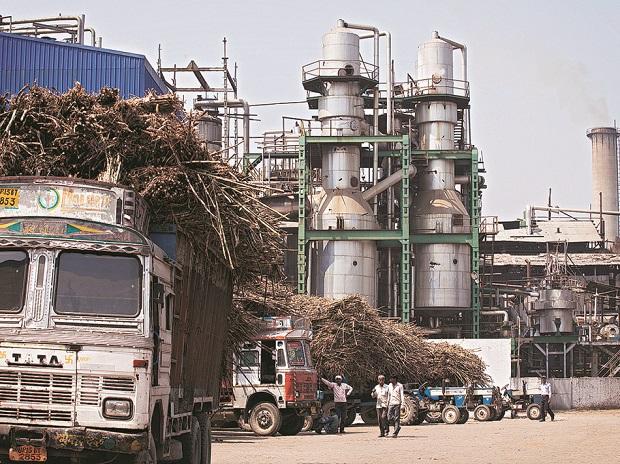 Image Credits: Business Standard
It has taken only one announcement to change the outlook for sugar companies. The forecast of a 13 per cent increase in production, compared to previous estimates, has panicked the market, eroding prices of the commodity and the stock price of manufacturers. In sum, after a year of record profit and a second reasonably good one, top sugar companies again seem on the verge of an extended downturn. And, given the current environment in banking, a number of companies might not be able to swim through.
"Companies have not been able to repair their balance sheet in two years of recovery. The industry has already started getting worrying feedback from banks. Given the recent developments in banking, it will be challenging to arrange funds for many players, unless the sugar sector gets preferential treatment," said Tarun Sawhney, vice-chairman at Triveni Engineering and Industries, which has seven sugar mills in Uttar Pradesh.
Sugar mills rely heavily on banks for working capital loans, since production is over a five-six month period, but the output gets sold over the whole year or more. And, farmers are to be paid immediately for sugarcane, mostly from bank loans.
"We are already losing Rs 2 on every kg of sugar; the mill-gate price is Rs 32; production cost is at least Rs 34," says Sawhney. At which rate, the industry in UP alone could lose up to Rs 20 billion on annual production of 10 million tonnes (mt). Sugar mills have no control over the price of sugarcane; this gets decided by the central or state governments. And, this price does not factor in the price realisation from sugar; it is a tool to appease millions of cane growers and their families.
With a slump in sugar prices, the industry says it is already struggling to pay farmers for the cane supplied in past months. The industry in UP already owes Rs 53 billion to growers, from purchases worth Rs 220 billion.
"This year's sugar production is way above the expectation and will be even higher next year (the sugar year begins on October 1 each year). With two years of surplus in the offing, prices have started crashing. The industry is back to the grind and operating next year will be a challenge," said Vivek Saraogi, managing director (MD) at Balrampur Chini, which owns 10 mills in UP. Balrampur's stock price crashed 26 per cent last week, to close at Rs 85 on surplus concerns.
Last week, the Indian Sugar Mills Association (Isma) raised its output estimate for the current season by 13 per cent to 29.5 mt (a record for India) from its previous one of 26.1 mt.
The industry is estimated to have carried four mt of stock forward from the 2016-17 season, taking the total availability this year to 33.5 mt. With annual domestic consumption of about 25 mt, there's an estimated surplus of 8.5 mt — a drag on prices, to impact earnings and delay payment to farmers. And, a surplus is expected next year, too.
Last week, Narendra Murkumbi, outgoing MD at Renuka Sugars, said many small and big companies would be heading to the National Company Law Tribunal, under insolvency proceedings, in the next 18 months. No wonder, then, that banks are turning cautious in lending to the sector.
Efforts and suggestions from various committees in the past to deregulate cane prices have been ignored. "Politics will decide if the sugarcane price gets linked to sugar. Politics aside, the economics is clear," said Sawhney. He says farmers are getting 50-60 per cent higher realisation from the same area under cane as yields have improved in recent years.
While the road to fair cane pricing is a long one, the industry is seeking immediate relief. "Central and state governments need to step in. We have explained the situation to them," said Saraogi. The industry is seeking export incentives to ship out at least two mt before the next season begins in October. Exporting without any support would mean a loss of Rs 9 on every kg of sugar, it says.
The government in Maharashtra (the state is estimated to produce a little over 10 mt) says it will create a buffer stock of one mt (for a cost of Rs 32 billion). Millers in UP want their state government to create a similar stock.
Apart from challenges for the industry and banks, non-payment of cane bought from farmers in two politically important states, UP and Maharashtra, could impact the voting pattern in the 2019 Lok Sabha poll. These two states are ruled by the same party which heads the central government.
It is learnt the Centre is considering doing away with the 20 per cent export tax on sugar. And, the Union food ministry has been told to work on an export incentive scheme.
Another proposal is re-introduction of the 'Production-linked export subsidy programme' the current government had introduced in 2015. About 1.5 mt of sugar was exported in response — an incentive of Rs 4.5 a quintal was paid to the bank accounts of farmers at mills which met at least 80 per cent of the allocated export quota.
Some of the recent measures from the government include removal of the stock holding limit on dealers, an increase in the import tax on sugar to 100 per cent and a restriction on the amount mills can sell in the open market, to support prices.