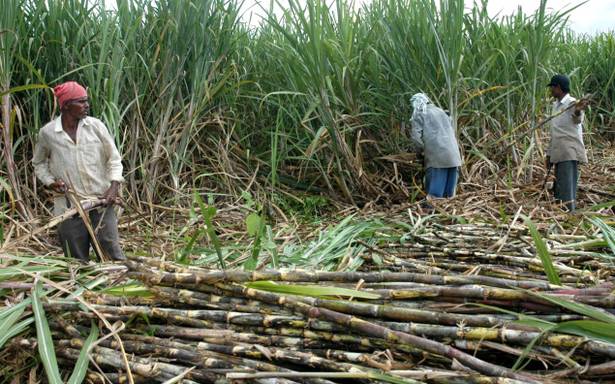 The sugar glut story is well-known. With domestic sugar availability — from a record 32 million tonnes-plus (mt) production in the current 2017-18 season and opening stocks of 3.8 mt — far exceeding estimated consumption of 25 mt, ex-factory prices have crashed from Rs 36-37 to Rs 25-26 a kg in the last seven months.
Not as widely known, though, is the glut in molasses, a by-product of the sugar industry used to manufacture alcohol. From every tonne of cane crushed, mills produce around 107 kg of sugar and 46 kg of molasses. That, on a likely crushing of 300 mt this season (October-September), translates into 32.1 mt of sugar and 13.8 mt of molasses. This is as against the 20.26 mt sugar and 9 mt molasses produced in 2016-17.
The huge jump in output of molasses — the dark brown syrupy liquid remaining after extraction of sugar from the cane juice — has led to it now being sold free in states such as Uttar Pradesh (UP), with mills even bearing the cost of transport to distilleries. "There's no other way, when our molasses tanks are overflowing. Some factories have even stored molasses in kutcha or open brick-lined pits within their premises, as they cannot take it out without paying excise duty," said a miller from Meerut.
"Last season, our average realisation was Rs 4,500 per tonne on free-market molasses and Rs 1,000 for the 20 per cent levy quota that we have to compulsorily supply to country liquor makers. This time, even free-market molasses fetched Rs 800-900 per tonne in November, before collapsing to Rs 250-400 by January and virtually to zero after March," he added.
There are two reasons, apart from higher production, for this situation. The first is controls on sale and movement of molasses by state governments, for whom it is a major source of revenue. UP alone has targeted Rs 23,000 crore of excise collections for 2018-19, over three-fourths of it from molasses-based liquor. It explains why UP mills have to "reserve" 12 per cent of their molasses production — the levy was 20 per cent prior to January — for country liquor manufacturers. Even the so-called free molasses cannot be sold outside the state without the excise commissioner's permission.
Explained | How far will aid for sugar go?
The second reason for glut is due to distillery capacities not keeping pace with cane crushing volumes. The 46 kg of molasses from every tonne of cane crushed can yield 11 litres of ethanol. The 13.8 mt of molasses this season — after factoring in 5 per cent diversion towards exports, animal feed and other uses — would, then, give over 3.1 billion litres. Out of this, an estimated 1.3 billion litres will go to meet the potable liquor industry's demand and another 0.6 billion litres to alcohol-based chemical makers, leaving a surplus of 1.2 billion litres.
The market for this surplus is supposed to come from the ethanol blended petrol (EBP) programme. The Narendra Modi government has already allowed 10 per cent blending, which, on the country's annual petrol consumption of 32 billion litres, would create a demand of 3.2 billion litres. Oil marketing companies have contracted 1.4 billion litres of ethanol supplies from mills for the 12-month-period ending November 2018. But clearly, that has not helped prop up molasses prices.
"There is not enough distillation capacity, especially in UP to absorb the surplus molasses. Also, no new licences are being given because of the Central Pollution Control Board's stringent norms on discharge of distillery effluents. We need a solution for managing that, without which even the EBP programme is going to fail. And the ultimate sufferer would be the sugarcane grower," noted the miller.
Cane contains 13-14 per cent sugar, much of which is recovered by mills. The un-crystallised, non-recoverable sugar left in the molasses is what gets fermented and distilled into alcohol.