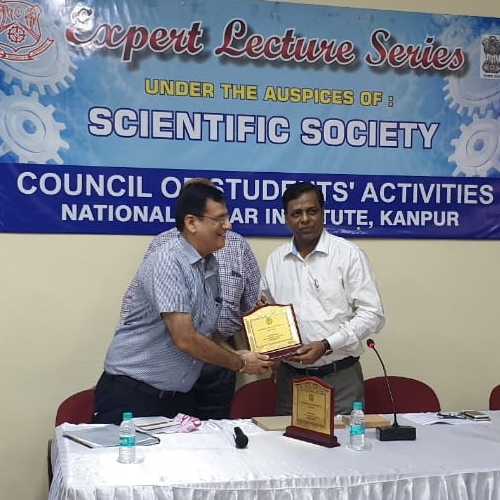 A workshop was held at National Sugar Institute, Kanpur today on "Production of Particle Boards from Sugarcane Bagasse" which was attended by the delegates from various sugar factories and technology providing companies. Inaugurating the workshop, Prof. Narendra Mohan, Director, National Sugar Institute highlighted the importance of the workshop in the present scenario prevailing in sugar industry where after meeting the captive requirements and use of bagasse as fuel for generating power for exports, about 5% of bagasse i.e. about 4.5-5.0 million metric tonnes bagasse is rendered surplus per annum. Looking to the availability of surplus bagasse and challenges in bagasse based co-generation of power, the sugar industry is required to look for alternate use of bagasse. Production of Particle Board Panels for making furniture is one such use about which the industry may take a step forward, he added.
In his presentation, Prof. D Swain, Professor Sugar Engineering informed that with the growth of the wood panel industry due to the demands in the furniture industry, the search for new raw materials has increased. Production of particleboard panels with sugarcane bagasse may allow the industry to expand, reduce the use of timber (and thereby, reduce the pressure on forests), and reduce the costs of panel production.

Presentations were also made on details of studies carried out in China and Brazil on production of such particle boards from sugarcane bagasse testing the physical characteristics of water absorption and thickness swelling of the panels after 2 and 24 h of immersion in water. The mechanical properties were also characterized by performing bending (moduli of elasticity and rupture), compression (moduli of elasticity rupture), internal bonding, screw pull out and Janka hardness tests. The studies indicate that panels made from sugarcane bagasse showed comparable with or superior physical and mechanical properties to those made from Eucalyptus and Pinus.
Experts from M/s Protos Engineering Co. Pvt. Ltd., Mumbai made presentation about two such bagasse based particle board plants set up in India recently in Haryana and Maharashtra. In near future, the market is going to see more fancy furniture made out of sugarcane bagasse, they said.
To Listen alternate use of bagasse news click on player the button.