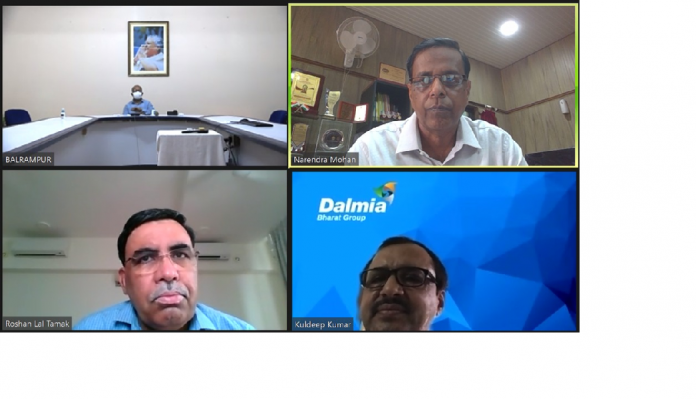 Kanpur: Sugar Industry has come forward to assist National Sugar Institute, Kanpur in setting up a most modern "WELLNESS CENTRE" at its campus. This was decided after an online meeting between the institute administration and officials of various sugar companies including sugar machinery manufacturers. Prof. Narendra Mohan, Director who is also an alumni of the institute offered to provide hospital beds and wheelchairs etc.
Prof. Narendra Mohan, Director informed that although Institute has considerable infrastructure, but yet several facilities for students are essentially required. During the last few years, we have tried to develop some of them including well furnished hostels, gymnasium and library facilities at hostels, but one thing which is still lacking is about extending "Health Care Facilities" to the students. The current pandemic has further strengthened our commitment to develop one such "Health or Wellness Centre" for the students, said Prof. Narendra Mohan, Director, National Sugar Institute. We conduct nine regular courses besides which customized training programmes are conducted regularly, thus, keeping in view, the strength of the students and experience Covid pandemic has given, availability of "WELLNESS CENTRE" is the need of hour, he said.
The proposed "WELLNESS CENTRE" is to be created against an expenditure of about Rs. 25.00 Lakhs only for which an accommodation has already been earmarked. It shall be a four bed air conditioned centre with OPD (outpatient department) facilities to students and staff. Many sugar groups viz. M/s DCM Shri Ram Sugars Ltd., M/s Balrampur Chini Mills Ltd., M/s Triveni Engineering & Industries Ltd., M/s Dalmia Chini Mills Ltd., M/s ISGEC and M/s Dwarikesh Sugars Ltd. etc. during the meeting confirmed their support for this noble cause and have agreed to provide all the required equipment including Oxygen Concentrators, furniture & fixtures. Necessary arrangement for Uninterrupted Power Supplies and availability of RO water shall also be made.
With their support, we are confident that it would be possible for us to create the facility by September 2021 i.e. before commencement of next academic session, said Prof. Mohan