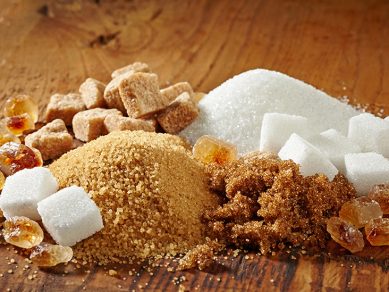 COLOMBO (News 1st) – The new tax structure imposed on sugar prices has resulted in the increase in the price of a kilogram of sugar. However, it has been revealed that the entailed profits are enjoyed by only three businessmen.
On the 17th of February, the Finance Ministry took steps to introduce a new levy on sugar prices, removing the previous special commodities tax of Rs. 31. At present, the tax component of a kilogram of sugar stands at around Rs. 43.

According to the Finance Minister, these measures were taken due to the drop in the price of sugar in the world market, adding that retail markets will not be affected by this decision. However, the price of a kilogram of sugar which previously stood at Rs. 91 now exceeds Rs. 100. Thus it's safe to say that the price of a kilogram of sugar was increased by nearly Rs. 15 in the wholesale market.
Prior to the change in the tax structure, all sugar stocks in the country were purchased by Pyramid Wilmar Pvt Ltd, Wilson Trading Co, and Pallegoda Trading. Importers say that Pyramid Wilmer had purchased a majority of stocks.
It was revealed at the cost of living committee, that nearly 60,000 metric tons of sugar are in the possession of these three companies. The increase in taxes has paved the way for these companies to earn a minimum profit Rs. 600 million with a profit margin of Rs.10 per kilogram of sugar.
Expressing views on the matter, Leader of the National Unity Alliance, Azath Salley said that even when the government was well aware of the value of sugar imports and the stocks already available in the country they had gone out and imposed a duty on the price of sugar.
Azath Salley said that such contracts were only believed to be in operation during the Rajapaksa regime, but that the situation had become widespread under the present government as well.
On the 2nd of October, the cost of living committee decided to impose a control price for sugar. Accordingly, the wholesale price of a kilo of sugar stood at Rs. 95, and the retail price of a kilo of sugar is Rs. 100. Though the ministry of industry and commerce was requested to impose a control price, the ministry has not taken any measure regarding this matter.
It is the Consumer Affairs Authority that has been tasked with gazetting the control price.