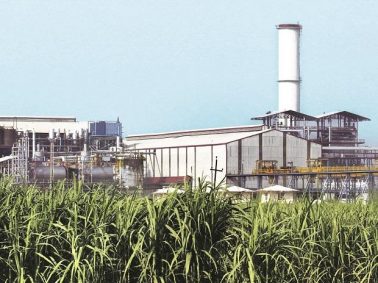 The government's attempts to boost the country's ethanol capacity has met with encouraging response from the industry. .
More than a hundred applications from leading sugar companies to set up new boilers and distilleries have been approved in the three months since the announcement, shows data sourced from the Department of Food and Public Distribution.
.

Officials at the department said leading sugar firms have sought approval for setting up additional capacities to make 1.25 billion litres of ethanol.
.
The companies include Triveni Engineering, Dhampur and DCM Shriram, Renuka Sugars, EID Parry and Dwarikesh Sugar and the applications — around 114 — involve subsidised loans worth Rs 62 billion. In most cases, leading companies have sought to set up or expand at more than one location. India currently has around 2.75 billion litres of ethanol capacity. To fulfill the mandatory 10 per cent blending, it needs an ethanol capacity of 3.25 billion litres.
.
Tarun Sawhney, vice chairman and managing director at Triveni Engineering, said the applications are proof that if the government comes up with an attractive policy, investments will follow.
.
"The atmosphere for investments in the domestic ethanol industry has never been better. If there was some clarity on a multi-year pricing of ethanol, response would have been even better," he said.
.
Triveni Engineering, he said, is investing in expanding its existing ethanol capacities as well as setting up new capacities that will allow flexibility to convert nor just C-heavy molasses but also B-heavy molasses into ethanol.
.
Officials said once the new capacities come on stream in the next 2-3 years, India will have sufficient ethanol to undertake a 10 per cent blending with petrol. The total approved loan amount under the subsidised loan programme announced in June totals around Rs 62 billion as per available record, while more is expected. In June, the Central government for the first time fixed a separate price for ethanol produced from B-heavy molasses and C-heavy molasses. The former along with ethanol produced from sugarcane juice command a higher price than ethanol produced from C-heavy molasses.
.
Besides, in order it to bail out the loss-making sugar industry and help the companies clear cane dues, the government had announced a Rs 70 billion relief package of which Rs 44.40 billion was in the form of soft-loan for upgradation of existing distilleries attached to sugar mills by installing incineration boilers and setting up new distilleries in sugar mills.
.
The Central government will bear an interest subvention of a maximum Rs 13.32 billion over a period of five years including a moratorium period of one year on estimated bank loan amounting to Rs 44.40 billion to be sanctioned to the sugar mills by the banks over a period of three years.
.
Meanwhile, to further incentivise sugar mills, the Centre has enhanced the monthly domestic sales quota for the sugar mills that produce ethanol from B-heavy molasses or sugarcane juice. Ethanol produced from these two methods, also called intermediary processes, contains some amount of sugar.
.
In its latest order, the Centre has allowed mills to sell the amount of sugar it sacrifices in making ethanol from B-heavy molasses or sugarcane juice to sell in the market over and above its mandatory quota.
.
In order to make 600 litres of ethanol from B-heavy molasses or sugarcane juice around a tonne of sugar is sacrificed. The mills can sell additional sugar in open market to improve cash flows. In India, sugar mills are allowed to sell a specified quota of sugar every month in the market to prevent erratic movements in prices.